Posts Tagged 'big dick'
Friday, February 5th, 2016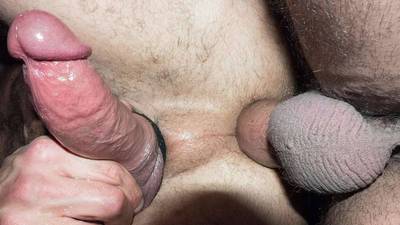 Hugh Hunter enjoys a fat cock down his throat but so does Vinnie Stefano. When Hugh and Vinnie meet it's a chemical reaction deep down in the balls that will make you pant as much as it did them. And trust us, these two were running hot from the moment they met! Tattooed bearded bottom Hugh takes on quite a challenge when bareback top Vinnie pops past that first sphincter, then slams home past the second and goes to town, pounding his whore until they each pop a steamy hot load!
Friday, January 29th, 2016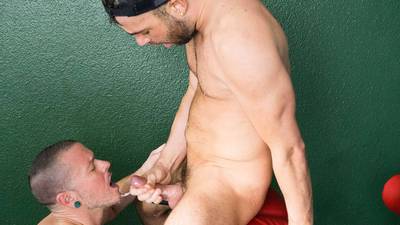 A man's gotta do what a man's gotta do. Even if that means being on set at 9am to film another hot scene during our Vegas Production. But it's easy when Entourage Las Vegas doesn't close. Max and Alex have worked before so we knew it would be a smooth scene. These two guys fell right back into it with great chemistry. Starting with some kissing, sucking and rimming before dick hung bottom Alex takes Max special "Breakfast Meat". They both put their morning wood to great use till they both shoot on each other. What a way to start a day!
Friday, January 15th, 2016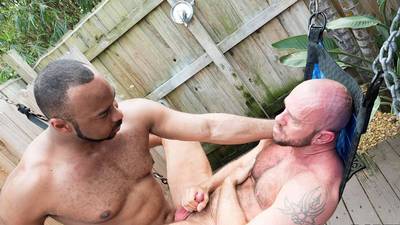 The inn leather of Fort Lauderdale, FL was the perfect setting for this hot scene between Ray Diesel and Matt Stevens. They didn't mind that a party was going on and people watched. Some hot kissing and cock sucking quickly turned into Ray's huge cock being sucked up by Matt's open hole. Watching those two fuck in the open air was very hot. They had a great chemistry which ended in two very messy cum shots. Enjoy!
Friday, December 11th, 2015
We caught these two walking in the rain and invited them to hang with us back at our house. Granted it was a planned meeting, but in fact it was raining and we did pick them up. But what wasn't planned was how hot the two of them would be together! Watching Sean deep throat Ray was a beautiful sight. As was seeing Sean take Ray's monster cock with ease as his warm and wet hole sucked it right up, which made for a good ride from Ray. Damn Sean's hole can take a pounding. A challenge Ray didn't back down from. You can tell how good it felt as Sean's eyes rolled in the back of his head. But watching both of these sexy men cum was the icing on the cake! I'm sure you will enjoy it too!
Friday, December 4th, 2015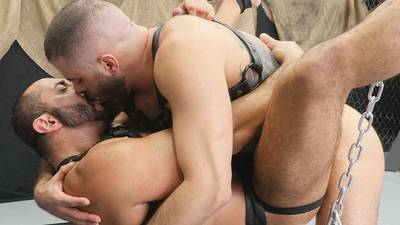 It was really hot working with Amir Badri and Marcus Isaacs as they broke in our new custom-made swinging fuck table. We don't usually fly in models but there was something about Marcus that made us go for it. Very happy we did. And I know Amir was happy too, as we watched the sparks fly as soon as they locked eyes, locked lips and staring sucking cock all before we finished the paperwork. So when it was time to film it was ready, set, go while we sat back and filmed the action. Kissing, sucking and ass rimming started off the scene which quickly turned into some hot, raw ass and toy play. Watching Marcus take Amir with his large thick tool will have you craving cock up your own hole for sure.
Friday, November 27th, 2015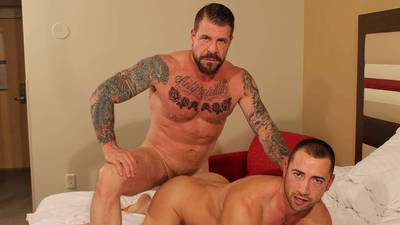 You know that you have arrived in bareback porn and that you're a true raw bottom when you pass the ultimate test of being fucked and filled by Rocco Steele's massive 10×7 cock. He's a sexy beast and an awesome top that everyone wants to ride and this time Donnie Dean gets his chance. This scene just sizzles from the get go as Donnie wastes little time and gets right down to business. He climbs onto Rocco's thick shaft as his ass opens up and swallows his cock whole. Donnie rides his pole like there's no tomorrow as Rocco drills and pumps his bare ass. He fucks Donnie deep and hard leaving him gasping and breathless. Cum spews all over as they both shoot their wads and bust their nuts when this scene comes to a blissful end. This definitely is another winner of a scene to add to your list of Rocco Steele favorites.
Friday, November 20th, 2015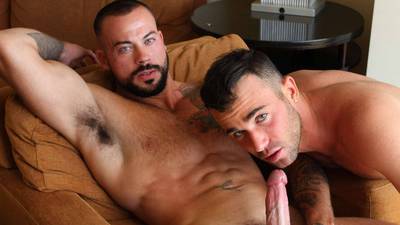 Alex is bent over the chair showing off his raw hole to Sean's admiring eye…kneeling in front of his twitching hole Sean starts to rim and lick Alex. The action heats up pretty fast when they take turns sucking and 69 with each other on and off the furniture. Alex stays bent over the side of the chair as he is fucked by Sean's stiff hard cock. They turn the room into their own private fuck parlour as they move about the place…Sean fucks the load straight out of Alex when he cums all over himself after having Sean's cock up his hole…Sean breeds his nut deep into Alex filling his hole up with his cum. After it's all done they both share some cum with the other as the kiss and hug to finish it off.
Friday, October 30th, 2015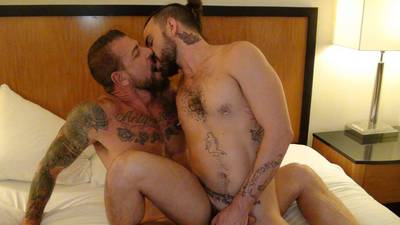 What more can be said about Rocco Steele other than he is a legend in the making…Him and his massive cock deliver another stunning performance…this time with willing victim Lukas Cipriani. The passionate lust that they display for each other is genuine and real so it's no surprise that this scene is bareback sex at its very best. Rocco's impressive 10×7 inch cock is on high alert as he nails and fucks Lukas' raw hole in every position. Rocco feasts on his ass as if it was his last meal and gets it ready for Lukas' final pounding and breeding. Cum flows and the sweat drips as these sexy beasts collapse in exhaustion.
Friday, October 23rd, 2015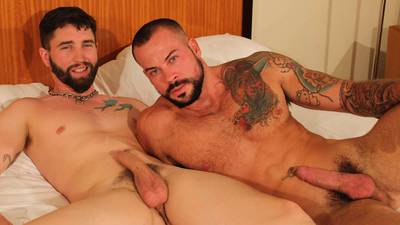 Bareback heartthrob Sean Duran is back for more raw action as he gets his chance to plug and pound Jackson Fillmore's tight pink hole. It doesn't get much hotter that this…and the sexual chemistry between them are intense and amazing. Jackson has no problem sliding down and riding Sean's stiff man pole. Looking deep into his eyes as his ass swallows Sean's cock balls deep. He is flipped over and fucked hard when Sean nails his bare butt and loads him up with his fresh seed. Jackson jerks his uncut cock and shoots his nut all over himself as an eager Sean cleans up the load and shares it back with his sweet bottom.
Friday, October 9th, 2015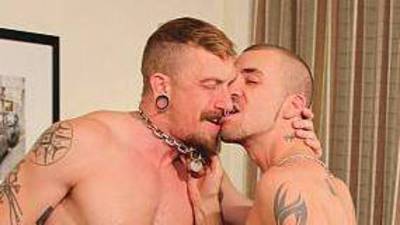 The chemistry between the three of them is electric and the sex…it's just fucking amazing…when Jon shines as the power bottom of this scene and takes on Jessy's huge uncut cock and Jeff's heavy loaded nuts…neither of the Tops can get enough of Jon's furry hole as they fuck him every which way they can…he's bent over, fucked doggie, then fucked froggie, thrown back on the couch with legs spread wide open…it's a hot romp in the sack with three sexy beasts…each shoots a huge load of cum that is shared and devoured by all.