Posts Tagged 'Bottom'
Friday, January 22nd, 2016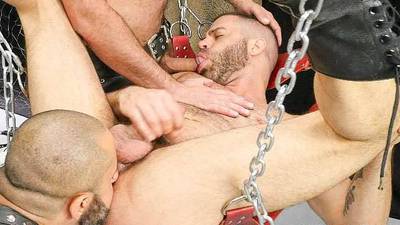 When you get these three hot guys, Amir, Marcus and Matthieu, in a scene together you can expect nothing less than fireworks. Amir and Marcus begin and Matthieu quickly adds in. Soon cocks and hot holes are dripping with spit getting their bodies ready for hot fun. Then it's time to pull out the toys! Major cock sucking and ass play is just the warm up to part 2 of this session. Enjoy!
Friday, January 15th, 2016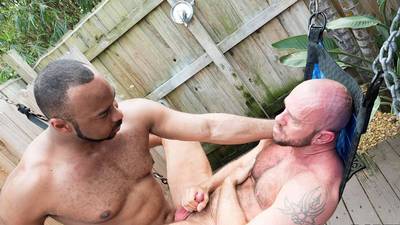 The inn leather of Fort Lauderdale, FL was the perfect setting for this hot scene between Ray Diesel and Matt Stevens. They didn't mind that a party was going on and people watched. Some hot kissing and cock sucking quickly turned into Ray's huge cock being sucked up by Matt's open hole. Watching those two fuck in the open air was very hot. They had a great chemistry which ended in two very messy cum shots. Enjoy!
Friday, January 1st, 2016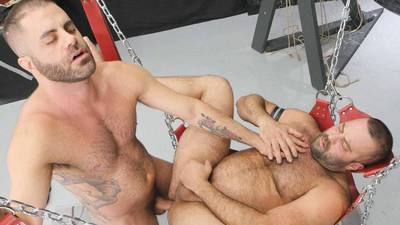 We brought Marcus up to Montreal for a filming weekend and paired him with some of our fun, hot guys like Mathieu. Who was more than happy to sit in the sling and be a trapped, dick slave for Marcus. Not on to shy from getting his hole licked, It was hot when Marcus decided to climb up the sling and sit on Mathieu's face, before jumping down and sliding his rock-hard cock into his willing bottoms hole. He worked that hole till he was ready to shoot a nice load out, in and all over it. Just in time for dinner! Check out this hot scene now!
Friday, December 18th, 2015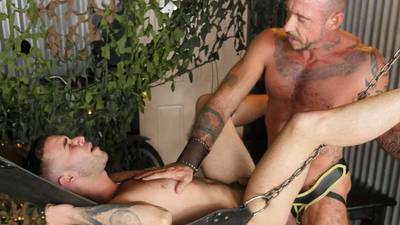 When we set up the last scene of the production weekend we didn't know what to expect, but we are glad we got Ray Dalton and Marcos Mateo together at Inn Leather in Fort Lauderdale. As soon as they got on set we knew we were in for a treat! It didn't take long before they were all over each other and cameras were rolling. Hard cocks and willing holes! Marcos sucked on Ray's huge cock, getting it pumped and ready. Ray, who loves eating ass, had his best meal of the day with his face between Marcos beautiful cheeks. And the deep, raw fucking just topped everything off! For sure a scene you don't want to miss!
Friday, December 11th, 2015
We caught these two walking in the rain and invited them to hang with us back at our house. Granted it was a planned meeting, but in fact it was raining and we did pick them up. But what wasn't planned was how hot the two of them would be together! Watching Sean deep throat Ray was a beautiful sight. As was seeing Sean take Ray's monster cock with ease as his warm and wet hole sucked it right up, which made for a good ride from Ray. Damn Sean's hole can take a pounding. A challenge Ray didn't back down from. You can tell how good it felt as Sean's eyes rolled in the back of his head. But watching both of these sexy men cum was the icing on the cake! I'm sure you will enjoy it too!
Friday, November 20th, 2015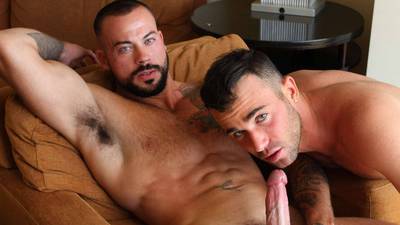 Alex is bent over the chair showing off his raw hole to Sean's admiring eye…kneeling in front of his twitching hole Sean starts to rim and lick Alex. The action heats up pretty fast when they take turns sucking and 69 with each other on and off the furniture. Alex stays bent over the side of the chair as he is fucked by Sean's stiff hard cock. They turn the room into their own private fuck parlour as they move about the place…Sean fucks the load straight out of Alex when he cums all over himself after having Sean's cock up his hole…Sean breeds his nut deep into Alex filling his hole up with his cum. After it's all done they both share some cum with the other as the kiss and hug to finish it off.
Friday, November 13th, 2015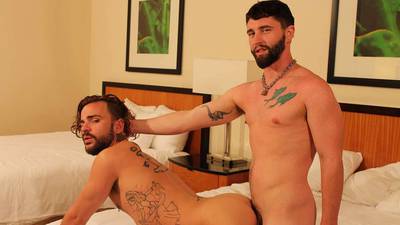 Jackson Fillmore gets his chance to top a raw ass and Lukas Cipriani offers his eager hole. The chance of getting another load planted deep into him…only meant that he was too ready for more bareback sex. The action heats up pretty quickly when Lukas slide downs onto Jackson's hard cock and starts riding him cowboy style. Jackson slides into Lukas' bare butt and nails him deep and hard. With his ass stretched and craving cum Jackson blast his nut all over Lukas' hole draining his balls dry…he fucks his cum into his ass as Lukas' shoots all over himself…they eat and share the load as they kiss and cuddle covered in sweat…
Friday, October 30th, 2015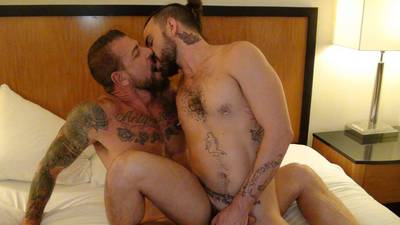 What more can be said about Rocco Steele other than he is a legend in the making…Him and his massive cock deliver another stunning performance…this time with willing victim Lukas Cipriani. The passionate lust that they display for each other is genuine and real so it's no surprise that this scene is bareback sex at its very best. Rocco's impressive 10×7 inch cock is on high alert as he nails and fucks Lukas' raw hole in every position. Rocco feasts on his ass as if it was his last meal and gets it ready for Lukas' final pounding and breeding. Cum flows and the sweat drips as these sexy beasts collapse in exhaustion.
Friday, October 9th, 2015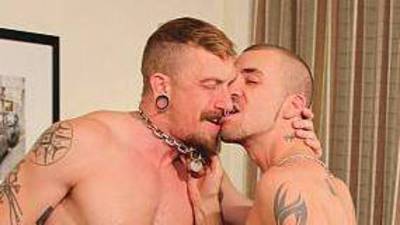 The chemistry between the three of them is electric and the sex…it's just fucking amazing…when Jon shines as the power bottom of this scene and takes on Jessy's huge uncut cock and Jeff's heavy loaded nuts…neither of the Tops can get enough of Jon's furry hole as they fuck him every which way they can…he's bent over, fucked doggie, then fucked froggie, thrown back on the couch with legs spread wide open…it's a hot romp in the sack with three sexy beasts…each shoots a huge load of cum that is shared and devoured by all.
Friday, September 25th, 2015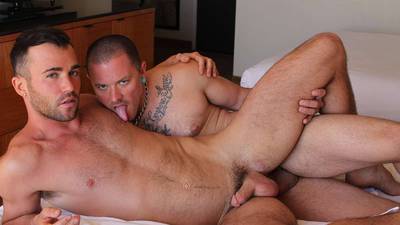 Max and Alex waste no time getting into the action as they kiss and neck on the bed naked. It's not long before Alex's face is buried in Max's crotch. He sucks and swallows his throbbing cock taking it deeper and deeper each time. Max flips him over and rims his butt, licking and teasing it to the point that Alex is begging for his raw cock. Max slides into his bare ass and fucks Alex hard. Whether it's in front of the mirror, on the desktop, or bent over the side of the bed, Max and Alex show us what happens when passion and lust combine forces. He shoots his load all over Alex's hole as he breeds his nut deep into him. Alex does the same and unloads his wad all over Max's hole. Max takes a quick seat onto his sloppy cock and rides him for a while making sure his entire load was captured. They taste and eat each other clean as they kiss and collapse onto the bed….