Posts Tagged 'Breeding'
Wednesday, January 10th, 2018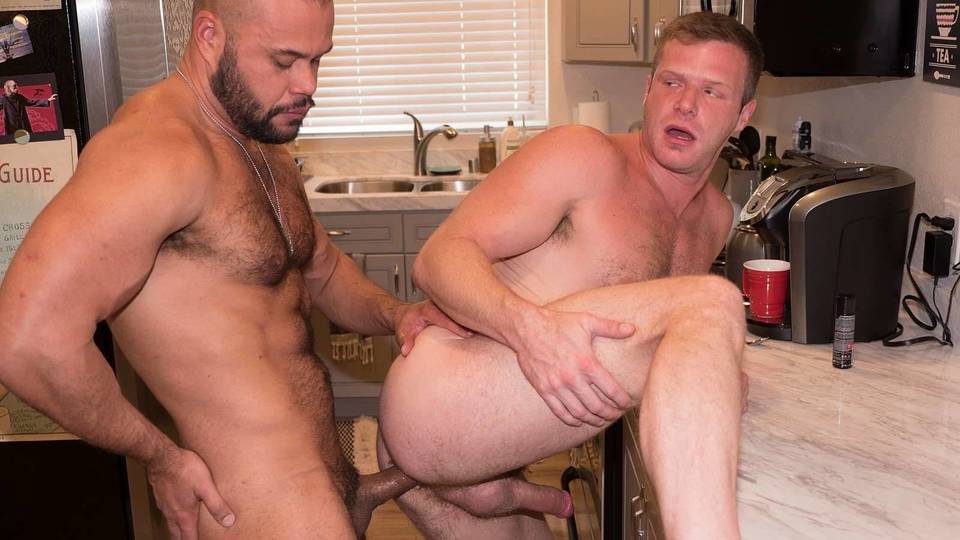 Sometimes, waiting for coffee just takes too long. Even when someone else is making it for you. So what do you do in the meantime, while you wait? Well, if you're Damien Kilauea and Brian Bonds, you get nasty, right there in the kitchen, sucking cock, rimming ass and bareback fucking. It doesn't matter if you're taking it standing up, bent over the counter, or on the floor. It certainly doesn't matter to hunky Brian and beefy bearded Damien, who get sloppy sucking dick sucking, spitting and fucking raw. This is non-stop hardcore action from start to finish and between all the moaning, grunting, groaning and dirty talk, the two hunks push each other over the edge, culminating with a balls deep breeding, cum co-mingling, and even a bit of felching. And after such an intense fuck, who needs coffee? These two are wide awake now!
Wednesday, November 15th, 2017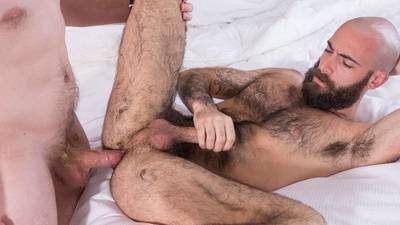 You can always tell a true cock whore who lives to satisfy his craving of dick and jizz. Stephen Harte is such a cock whore. The tall, bald and bearded otter is paired with hung, mustached newcomer Nate Stetson. The two take turns sucking each other and making out before tattooed Stephen gives up his trim little ass for Nate to devour. The blond Southern man then slides his raw cock inside Stephen and starts to fuck. He might start off gentle but Nate is NO gentleman when it comes to fucking bareback. He goes for a long while, rockin' steady before Stephen goes for some ass-to-mouth. After tasting his own ass juices on Nate's slimy cock, Stephen rides Nate raw, bouncing up and down. He milks the throbbing shaft until Nate is ready to unload, draining his big balls, seeding and breeding the cum hungry whore, who blows his own load all over Nate's chest. Be sure to see the scene through to the end to find out what they each thought of their fuck session!
Wednesday, October 11th, 2017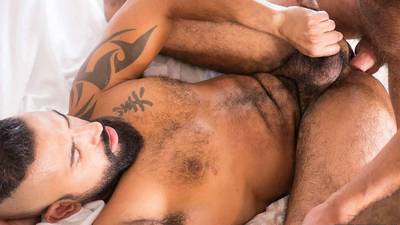 Carlos Alexander and Junito Alexander are married in real life. Individually, they tell us exactly what they like to do in the bedroom and, although they differ somewhat, there's one thing they can both agree on. The Latin couple likes their sex dirty, which is just how WE like it! So, if you're anything like us, or if you're just curious on what primal fucking looks like between married men, come join Carlos and Junito, two bearded hairy hung Latinos, as they make out, suck cock, and fuck the way nature intended…with nothing between them but their own skin. This is bareback fucking at it's steamiest. Balls deep grunting and unapologetic animal sex with big loads and the breeding and seeding of Junito's hot hole.
Wednesday, September 6th, 2017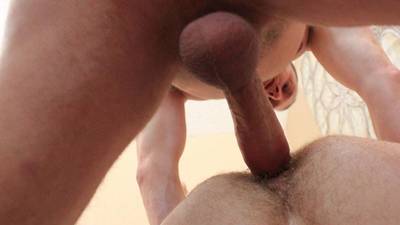 The best sex is rarely premeditated. That's why when Hans Berlin saw Alex Hawk step into their bathroom he decided to act on his primal urges. The shower quickly became steamy as they began making out, then Hans got Alex on his knees for a good face-fucking. Ass-eating led to a good old-fashioned shower fuck, then Hans led his still-dripping fuck to the couch to continue his raw pounding! After literally tearing the remaining clothes from Alex's body, Hans gave him a deep-dicking to remember, ultimately fucking the hot load all over his hairy chest before blowing his own and shoving it deep into the juicy depths of Alex's ass.
Wednesday, July 19th, 2017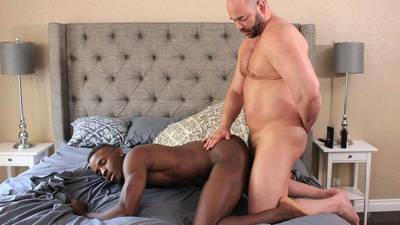 Pheonix Fellington had been waiting a long time to give a massage to Big Daddy Tyler Reed from head to toe. Running his hands all over Tyler's muscled body really excited Pheonix. As his hands traced his huge arms and legs Pheonix's butt would begin to throb wanting Tyler to massage his hole with that bulging cock. Once he flipped over on his back Pheonix couldn't focus anymore. The massage was over and he took his opportunity to swallow that thick daddy cock. He loved it when he moaned and forced my head down onto him. Feeling Tyler slide his thick cock into Pheonix's black ass gave him goosebumps. He was power fucked like he wanted from Tyler and just gave in and let Tyler control his hole!
Wednesday, June 21st, 2017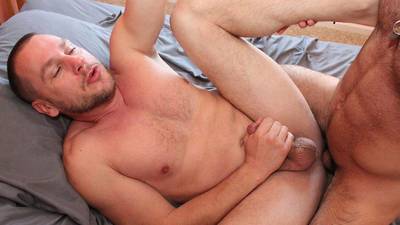 It was a gorgeous morning at the gay resort when Hans Berlin gave Mason Lear a kiss on the cheek and started fondling his morning wood under the sheets. It didn't take Mason much convincing to stay in bed all day and fuck. Mason soon returned the favor and buried his face in between Hans bubble butt while Hans enjoyed the morning view through the window. Mason pulled him back to the bed on all fours, his ass wet and ready. His throbbing cock slid gently into Hans' tight ass, slowly thrusting deeper and deeper. Hans enjoyed every inch, grunting after each thrust as they picked up the tempo, until Mason was pounding Hans' hole as fast as he could. With a loud moan, Mason unloads all the cum he's saved for his man into his ass, more and more cum dripping out of Hans' hole as Mason continued thrusting. It isn't long before Hans blows a big load all over Mason's chest from getting his cum loaded ass fucked.
Wednesday, June 14th, 2017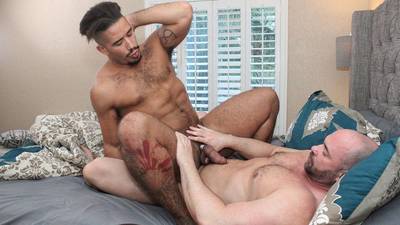 It was almost the end of the week and Tyler Reed asked one of his fuck toys, Trey Turner, to give him a back massage. Now Trey thought he could be a smart ass and asked how is he gonna get paid. Well Tyler turned over, grabbed his cock and said, "here is your payment." Before you knew it, Trey's Phat ass was up in the air spread wide while Tyler power fucked it while it jiggled. Trey's payment was deposited right in his slut hole!
Wednesday, May 17th, 2017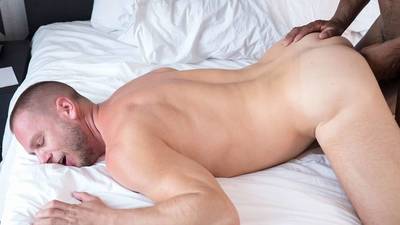 Both Champ Robinson and Hans Berlin have big dicks. They both prefer to top, bareback fucking eager, hungry power bottoms. But what do you do when you have two hung guys together like Champ and Hans in an interracial scene? How do you decide who's going to get fucked? Simple. You have a coin toss. Heads, Champ wins. Tails…well, Hans still wins! Then again, it wasn't much of a competition since Hans has always fantasized about chowing down on Champ's big black cock. After making out, Hans does exactly that. He then enjoyed the rim job Champ gave him, priming his sweet pink rarely fucked hole for the huge curved slab of brown beef. Though it was difficult at first for Hans to take all that cock up his ass, Champ brought out Hans inner bottom whore, giving it to him harder and deeper, making Hans scream like his bitch whore. Champ fucks the cum out of Hans then breeds the tight white fuckhole. Now, from what we hear, Hans can't get enough cock or cum. Want to be next?
Wednesday, May 3rd, 2017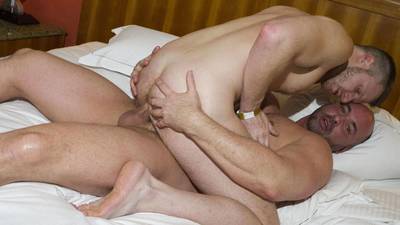 I have been wanting to fuck Brian Bond for awhile now and this week I finally go the chance to give it to him good. I first got him to give me a massage as I was planning on putting my back into fucking his slut hole, as I always do when a fuck slut bottoms. But first, when I rolled onto my back I pulled out my cock so he could massage it with his mouth, getting it nice and hard for what was coming up next…a good hard ass pounding! What Brian wasn't expecting is that once I finished breeding his slut hole I let the camera man fuck his sloppy used hole…
Friday, March 31st, 2017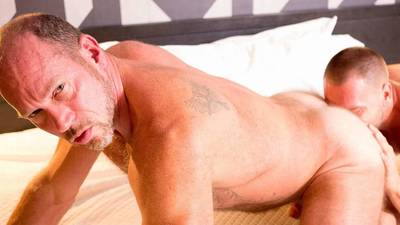 If ever there was a daddy/son duo you can sink your teeth into and fantasize about whether or not they actually are, it's Hans Berlin and Randy Harden. Clad in nothing but jockstraps and their sheer sexy horniness, the hairy, bearded, tattooed daddy and bearded hung son take turns sucking each other, showing off their oral skills. But daddy Randy wants more. He quickly presents his ass to Hans, who dives in tongue first. Rimming Randy's hairy hole, Hans spit-lubes Randy then gets him on his back. Using mostly spit and a bit of actual lube, he wastes little time in sliding that big fat cock come. Daddy Randy, being the versatile bottom that he is, loves that younger raw cock pounding his ass and stretching him open but needs a bit more control so he applies more lube and straddles Hans. Randy rides Hans deep but the job of a man like Hans is to satisfy his bottom with a good hard balls deep bareback fuck, pounding away until he fucks the cum out of his whore. And Randy does just that, soon delivering a load of his own, breeding the jizz-hungry daddy like a good top should.