Posts Tagged 'cock sucking'
Friday, February 12th, 2016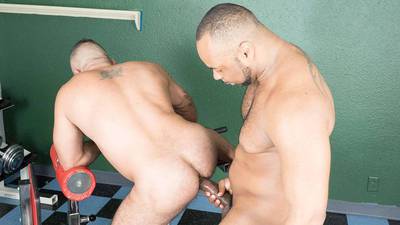 This was the last shoot for Ray Diesel and he didn't disappoint! Alessio provided just the right hole for the job. These two went right to business. After some deep kissing Alessio was ready to try that monster cock on for size. First in his mouth, then after some sucking and rimming, deep in his hole. It was hot to see that dark meat disappear inside Alessio. It was even hotter to watch Alessio shoot his own load as Ray's tool hit just the right spot. Check it out for yourself!
Friday, January 29th, 2016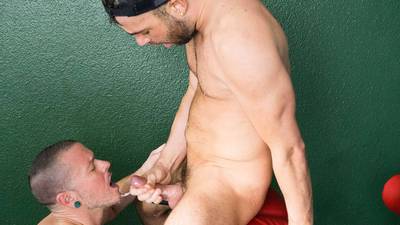 A man's gotta do what a man's gotta do. Even if that means being on set at 9am to film another hot scene during our Vegas Production. But it's easy when Entourage Las Vegas doesn't close. Max and Alex have worked before so we knew it would be a smooth scene. These two guys fell right back into it with great chemistry. Starting with some kissing, sucking and rimming before dick hung bottom Alex takes Max special "Breakfast Meat". They both put their morning wood to great use till they both shoot on each other. What a way to start a day!
Friday, January 22nd, 2016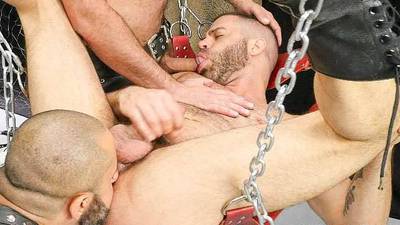 When you get these three hot guys, Amir, Marcus and Matthieu, in a scene together you can expect nothing less than fireworks. Amir and Marcus begin and Matthieu quickly adds in. Soon cocks and hot holes are dripping with spit getting their bodies ready for hot fun. Then it's time to pull out the toys! Major cock sucking and ass play is just the warm up to part 2 of this session. Enjoy!
Friday, January 15th, 2016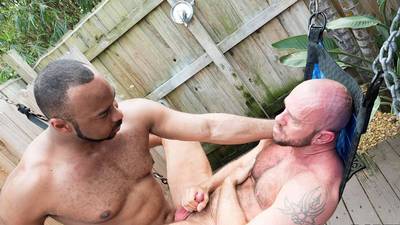 The inn leather of Fort Lauderdale, FL was the perfect setting for this hot scene between Ray Diesel and Matt Stevens. They didn't mind that a party was going on and people watched. Some hot kissing and cock sucking quickly turned into Ray's huge cock being sucked up by Matt's open hole. Watching those two fuck in the open air was very hot. They had a great chemistry which ended in two very messy cum shots. Enjoy!
Friday, December 25th, 2015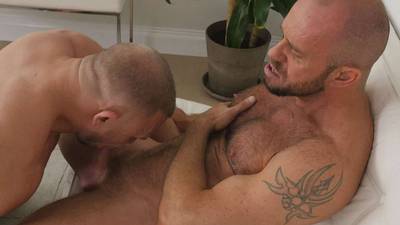 Matt Stevens and Daxton Ryker were the perfect pair to start off our production weekend in Fort Lauderdale. We picked them up, brought them to our super secret location and before long it was lights, camera and some hot, sexy, skin to skin action. They were into each other and it showed. From the way Daxton swallowed Matt's hard cock, to the way Matt slid in Daxton's wet hole over and over again before finishing up with a nice load all over it. Check it out for yourself!
Friday, December 11th, 2015
We caught these two walking in the rain and invited them to hang with us back at our house. Granted it was a planned meeting, but in fact it was raining and we did pick them up. But what wasn't planned was how hot the two of them would be together! Watching Sean deep throat Ray was a beautiful sight. As was seeing Sean take Ray's monster cock with ease as his warm and wet hole sucked it right up, which made for a good ride from Ray. Damn Sean's hole can take a pounding. A challenge Ray didn't back down from. You can tell how good it felt as Sean's eyes rolled in the back of his head. But watching both of these sexy men cum was the icing on the cake! I'm sure you will enjoy it too!
Friday, December 4th, 2015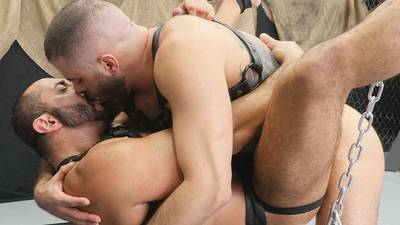 It was really hot working with Amir Badri and Marcus Isaacs as they broke in our new custom-made swinging fuck table. We don't usually fly in models but there was something about Marcus that made us go for it. Very happy we did. And I know Amir was happy too, as we watched the sparks fly as soon as they locked eyes, locked lips and staring sucking cock all before we finished the paperwork. So when it was time to film it was ready, set, go while we sat back and filmed the action. Kissing, sucking and ass rimming started off the scene which quickly turned into some hot, raw ass and toy play. Watching Marcus take Amir with his large thick tool will have you craving cock up your own hole for sure.
Tuesday, December 1st, 2015
Who isn't easily distracted when there's a handsome young man in your bed? Kayden certainly is, and with the stubbled Jonah O'Pry sucking on his lengthy dick, he's easily forgiven, as long as we get to see it all happen, and boy do we! As Jonah gets his sexy face stuffed full of Kayden dick, Kayden's leaving Danny busy in Brighton, so the focus shifts to Jonah's butt hole soon enough, and pulling his fuck buddy up ass into the air, his open hole is given to us and to Kayden to lap at, making it moist and hungry for more, and it's going to get a hell of a lot more in a minute! As Kayden slams down into Jonah, it's fair to say Jonah's never had a cock so big and his rock sold cut dick is testament to just how much he's loving it! Flipped and thrown around the bed, Jonah is a proud bottom and pushes back, making the whole experience memorable for everyone involved, even us! Squirting jets of spunk whilst Kayden's still fucking away inside him, Kayden sees this, loves it and jumps up, squirting his own torrent down over Jonah's smooth freshly fucked body, before collapsing next to him, the scent of cum in the air and sweat on their bodies, just how it should be.
Friday, November 27th, 2015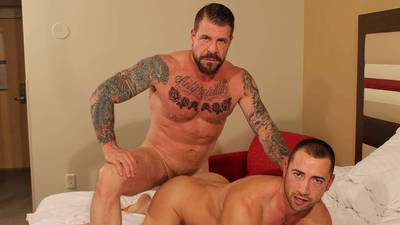 You know that you have arrived in bareback porn and that you're a true raw bottom when you pass the ultimate test of being fucked and filled by Rocco Steele's massive 10×7 cock. He's a sexy beast and an awesome top that everyone wants to ride and this time Donnie Dean gets his chance. This scene just sizzles from the get go as Donnie wastes little time and gets right down to business. He climbs onto Rocco's thick shaft as his ass opens up and swallows his cock whole. Donnie rides his pole like there's no tomorrow as Rocco drills and pumps his bare ass. He fucks Donnie deep and hard leaving him gasping and breathless. Cum spews all over as they both shoot their wads and bust their nuts when this scene comes to a blissful end. This definitely is another winner of a scene to add to your list of Rocco Steele favorites.
Friday, November 20th, 2015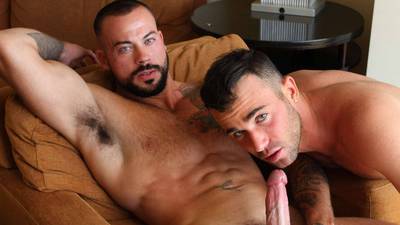 Alex is bent over the chair showing off his raw hole to Sean's admiring eye…kneeling in front of his twitching hole Sean starts to rim and lick Alex. The action heats up pretty fast when they take turns sucking and 69 with each other on and off the furniture. Alex stays bent over the side of the chair as he is fucked by Sean's stiff hard cock. They turn the room into their own private fuck parlour as they move about the place…Sean fucks the load straight out of Alex when he cums all over himself after having Sean's cock up his hole…Sean breeds his nut deep into Alex filling his hole up with his cum. After it's all done they both share some cum with the other as the kiss and hug to finish it off.