Posts Tagged 'cocksucking'
Wednesday, February 25th, 2015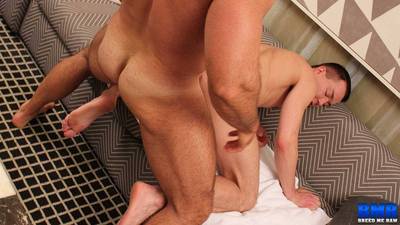 David Lambert was looking forward to ending the week servicing a hot hairy muscle daddy. He dropped to his knees as soon as Brad Kalvo whipped out his shlong. David deep throated that fucker like it was the last cock for the week. Then he put his slut ass up in the air for Brad to eat out and get it all wet and sloppy so he could just slide his daddy cock in the hungry hole. Raw, naturally! Brad could do whatever he wanted, just as long as he gave him his daddy load, which always makes David a very happy cum collecting whore.
Wednesday, February 18th, 2015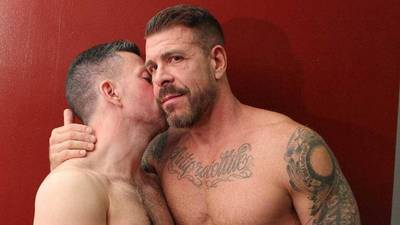 Rocco Steele loves his bad boys, especially if they are put in a cage like Nick Tiano was. Nick was on his knees drooling over Rocco's manly cock through the bars in his cage just waiting to get a taste of that fucker. Rocco teased his mouth for a while before he got Nick to back up his sweet ass to the bars so he could start sliding his massive 10×6 cock in that tight fuck hole making Nick scream like a bitch boy. Woof!
Wednesday, February 11th, 2015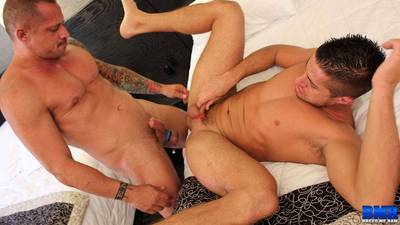 Dylan knew his ass was in for a treat the moment he saw Kyle's throbbing rod and he was more than happy to be used strictly for Kyle's pleasure! Kyle couldn't wait to get inside Dylan's hot bubble ass, and was pushed to the edge the second he slid his cock deep inside Saunders's juicy hole and felt the load of the stud Saunders had been bred by earlier that day. At that point, there was no turning back as Kyle slammed his cock into Dylan's well used hole, causing them both to shoot their loads onto Saunders's chest.
Wednesday, February 4th, 2015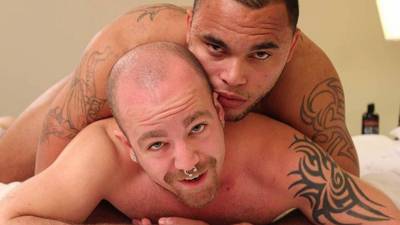 Orlando Ink loves to dominate hot men with his big fucking cock, especially those with hairy butts and a hot mouth. Lex Antoine couldn't resist either, servicing this hot muscle dude with both his holes! He gladly took Orlando's cock down his throat while he played with his butt. But what he really wanted was that big raw meat in his hungry ass. He got his wish quick and found himself face down taking Orlando's cock and feeling all 9 inches slide in and out of his hairy hole. Did he earn the load? You'll have to watch to find out!
Wednesday, January 28th, 2015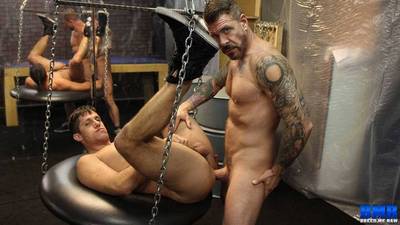 One of the last scenes of the shoot so we paired up Dylan Saunders to take the biggest cock we had on set, Rocco Steel's 10×6 Monster Meat! Dylan was already loose from a week of fucking so Rocco had an easy time plowing his fuck stick deep in that slut hole. He loves a good slut who can take his rod with ease and still beg to get used more!
Wednesday, January 21st, 2015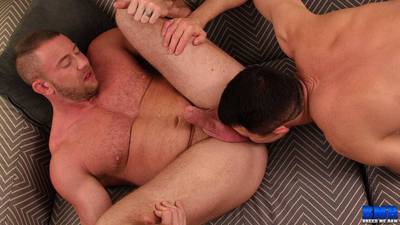 Shay Michaels likes to fuck European muscle bottoms and he didn't hold anything back when we paired him up with David Lambert. These two had instant chemistry especially between David's mouth and Shay's man meat. David went down hard on Shay's cock and while he was down there couldn't resist eating Shay's amazing butt hole! But it didn't take long before Shay flipped David over and starting having fun with his raw hole pumping deep until he exploded!
Wednesday, January 7th, 2015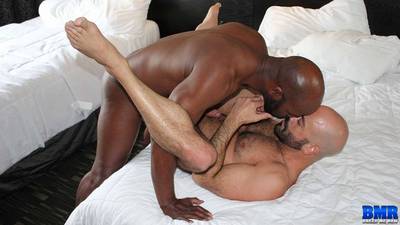 Dropping to his knees for huge black uncut cock is the norm for Adam Russo. He hadn't seen his boyfriend Cutler X in over a week and when he did, Adam got to his knees and power sucked that black monster until it was rock hard and ready for some serious bareback fucking. Adam then threw his ass up in the air for his daddy and let him take advantage of that slut hole any which way he wanted. Adam knows how to please a big black cock and does what he is told. Cutler wrecked that hole good with his uncut monster and made sure it was plugged deep!
Wednesday, December 17th, 2014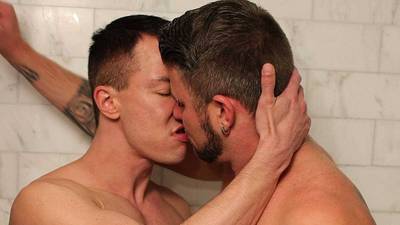 Already receiving one cock and load earlier in the day, Christian Matthews was on the hunt for another. So he got online and found the nice fat uncut juicy cock of David Lambert. Starting out in the shower these two sluts got right into some intense cock sucking action with serious deep throats and gagging before they moved it to the bed and Christian had to give up his ass to that raw cock. David couldn't wait to punish that ass and really make it a loose hole!
Wednesday, December 3rd, 2014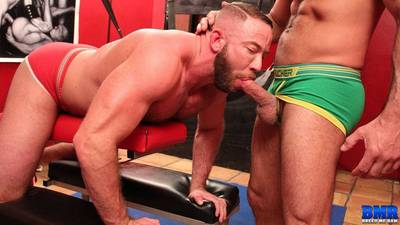 Shay Michaels wanted to have a tender moment scene with a hot dude so I paired him up with Adam Russo. Shay straddled the fuck bench as Adam walked up with a bulge in his underwear and shoved it straight into Shay's face ordering him to suck it deep and deep throat it. But Adam wanted to taste Shay's curved cock and put him in the sling so he could get his ass and cock. With Shay's used hole pulsating Adam could not hold off any longer and slide his big meat in there raw and pounded away making Shay blow his hot jizz all over his hot hairy chest!
Thursday, November 20th, 2014
Welcomed into Cute Jake's world, we're given his hot boyfriend getting down and dirty, but with Jake nowhere to be found! Instead, Kayden's playing with slim twink Kai whilst Jake's working late. We can all see why Kayden's in hot demand, his muscle toned body and giant thick dick flopping out of his pants, Kai just can't get enough of it in his mouth! Working his sweet youthful lips around the immense girth, Kayden lays back and enjoys this worshipping, it's exactly what he wants! Eager not to get caught out by Jake, Kayden's quick to move things along, and it's soon Kai's ass that stretching around his dick, sliding all the way in and out, his legs pinned against his smooth chest as Kayden plunges deeper and faster. As he's flipped on top of him, letting him get harder, Kai jerks himself off all over Kayden's hard chest, still with that giant dick inside him pumping away. Pulling out quickly, Kayden dumps his own load all over Kai's perfectly formed ass cheeks, as we see it drip sexily down, showing the curve of his butt.