Posts Tagged 'condom'
Wednesday, December 20th, 2017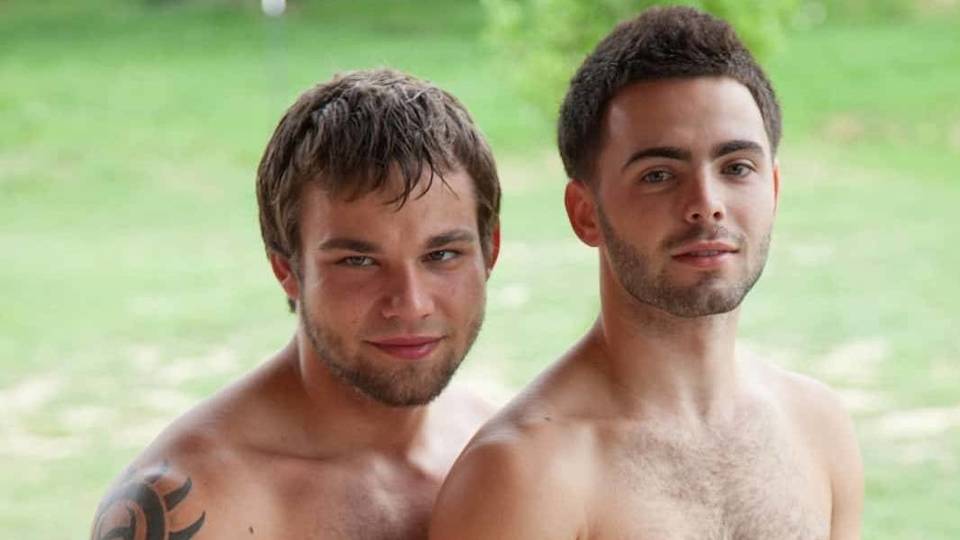 Josh Long and Logan Taylor are both young, horny and full of attitude. It goes great with their prowess and hit shows! We'd filmed them both but had never paired them together. And knowing their cockiness, we weren't quite certain if Logan and Josh would get into a tussle while fucking. On a perfect summer day, we found out. Logan went down on Josh's cock, getting him nice and hard which made Logan throw his ass up in the air and Josh to take him deep. Logan crawled up onto the table and got on all fours so Josh had to climb up to mount him. But once Josh eased his big hard cock into Logan's wet hole, he slowly opened up Logan's ass and stretched out his hole, turning up the heat as Logan all but purred like a kitten. Josh finished off Logan with a good pounding and a hard pile drive, balls deep until both studs dumped cum all over Logan's sweet, smooth body.
Wednesday, December 6th, 2017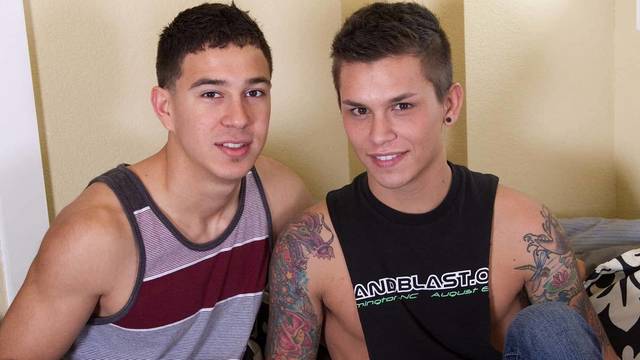 Joey Vox and Seth Knight sizzle in what is one of Joey's last ever scenes. Sadly, he's left the porn industry behind to join the military and we wish him well. At least we have him immortalized in "celluloid" as it were. Filmed here with Seth, we captured something rare…Seth topping and Joey bottoming. That's right, a bottom twink gets to fuck stud Joey's tight hole! It may not have been Joey's first time on the received end but he's not done it often and Seth gives quite the performance in his first real drilling as a top. When Seth first mounts Joey he doesn't hold anything back and shoved his cock balls deep into that mostly straightly ass. And after a while of getting fucked, Joey begged to taste Seth's cum. He put his head back and took that huge twink load before following up with a gusher of his own.
Wednesday, November 29th, 2017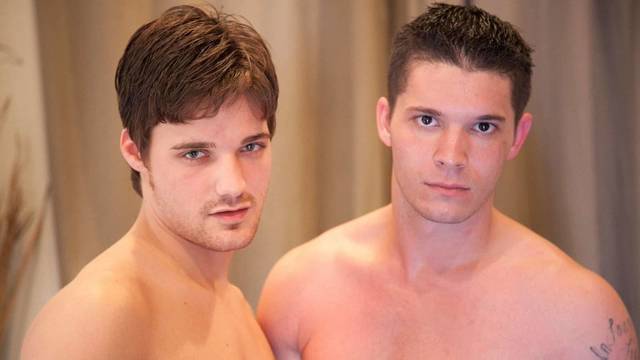 Krys Perez and Haigan Sence were hanging out, chilling. Trouble is, Haigan was horny. Then again, when isn't he? Always up for a scene, shoving his cock in a tight hole and getting off, Haigan made sure to let Krys know he had a 7-day load aching for release. Krys, who prefers to top, just gave it all up and turned into a big submissive for Haigan, who took what he wanted, stretching out Krys' holes with some deep drilling. Krys wanted to see Haigan shoot so he laid back and jerked off as Haigan unloaded all over his face and down his throat. Can't you just taste it?
Wednesday, October 25th, 2017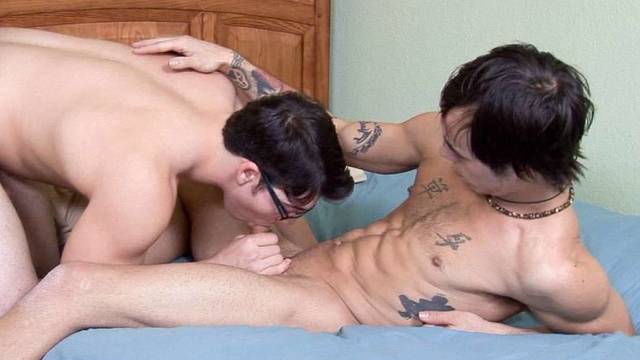 Clark G let us film him in a solo a while back and after, expressed interest in possibly getting it on with another guy. Naturally we thought of Genesis. We knew that if anyone would be able to guide Clark through his first time with another guy, especially in front of the camera, it would be the pierced and tattooed hung hottie. With Genesis's permissions, we shared a picture of him with Clark. He wrote us back telling us he'd DEFINITELY be up for fucking his first man hole. As it turns out, Clark had tried to hook up with another guy he met online but the guy couldn't take his cock. We guaranteed him there was no chance of that happening again. Genesis grabbed Clark by the back of the head and pulled him in tight for some hot kissing. Clark didn't put up a fuss and Genesis went further. He moved his lips down to Clark's neck, continuing further as he dropped to his knees, working his way down Clark's beefy torso. Clark wanted a taste of Genesis's cock so he pushed Genesis on his back, grabbed the shaft and started sucking. Genesis clearly enjoyed Clark's dick sucking but that wasn't what he was about. Not for this session. He needed Clark to puncture his moist hole! Genesis got on all fours and Clark mounted him, pounding Genesis in every position they could image. Finally, Genesis had to explode. With his Legs spread open wide and Clark drilling away, Genesis exploded with a huge stream of fuck juice. Clark followed, stroking out a load of his own and drenching Genesis's already cum drenched abs.
Wednesday, October 4th, 2017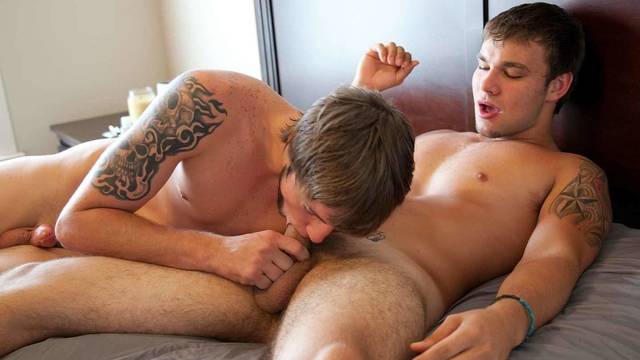 Logan Taylor and Austin Perry are no strangers to fucking in front of the cameras but both are straight, or so they claim, and prefer to be on top. So what do you do when two straight guys are horny and need to get off? You set up the camera, throw them in bed together, and let them figure it out. When it came down to it, there was no question on who was going to bottom. The guys took off their clothes and Austin laid back. Logan didn't waste time worshiping his hot body then started kissing Austin's neck. Once he realized he would meet no resistance, he worked his way down to Austin's cock, getting it nice and hard and ready for his hole. Logan took it doggie before Austin flipped him on his back, giving Logan an old-fashioned missionary drilling. Austin exploded all over Logan's hairy hole then Logan finished himself off, spraying cum all over his sweaty, beefy body.
Wednesday, September 20th, 2017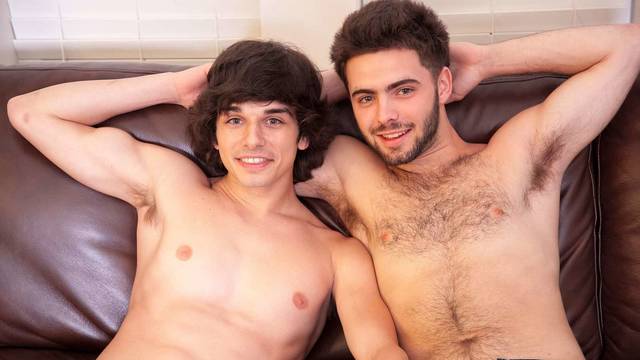 We'd planned getting Josh Long and Xavier Daniels together ages ago. The trouble was, something kept coming up. First one couldn't make it, then the other. Unfortunately, on the third attempt, WE couldn't make it! Fucking life, eh? It always gets in the way when you want to have fun. After some time we decided to give it another go. Turns out, this time, it was green lights from the word GO! We sat the two of them on the couch and told them to start making out. They did. And it progressed naturally from there. Josh, who some have thought was Dominic Cooper (we wish!), got down on his knees and sucked Xavier until he was rock hard. Then Xavier put Josh on all fours and slowly entered his tight hairy hole. THIS is what we were all waiting for…to see Josh on all fours, his back arched, his meaty ass in the air. Xavier's ripped body pulsated with ever thrust of his thick hard cock! Was it worth waiting all that time? Let's just say they both emptied their loads on Josh's stomach and were soon ready for round two. This time, however, they held up their hands and asked us not to film. With a sigh, we had to console ourselves with listening to their ball busting moans and the sound of bodies slapping as they fucked their brains out in one of our guest rooms.
Wednesday, September 6th, 2017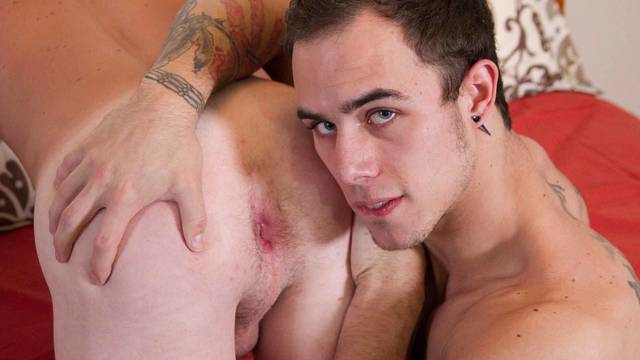 The pairing between Genesis and Cash Walker happened because Cash texted us with a simple message: HRNY. ND 2 GET FKD!. We were already sexting with Genesis and asked if he'd be interested in throwing a fuck into Cash. We sent Genesis a picture and within seconds he replied with: b there in 10. Naturally, we had a lot to do, what with cleaning up after a previous scene, in addition to texting back Cash to let him know we'd found someone to fuck his sweet ass. He was curious to know who was going to ride him but not terribly concerned. When you're THAT horny, it really doesn't matter anyways. A cock in a hole is exactly that. A cock in a hole with the sole purpose of satisfying an itch. Genesis arrived first, anxious to get his big dick inside Cash. Moments later, Cash arrived. There wasn't a lot of talking. They were just ready to go. They traded sloppy blow jobs until Cash was dripping precum, his hole ready for Genesis. Cash propped himself up on all fours and Genesis made a meal out of that tight little hole before slowly working that thick cock into Cash's juicy ass. Cash just let go, let loose, and let Genesis take complete control. Genesis pounded away, giving it to Cash balls deep before unloaded a creamy snack into Cash's hungry mouth, then going in for a taste of his own jizz.
Wednesday, August 23rd, 2017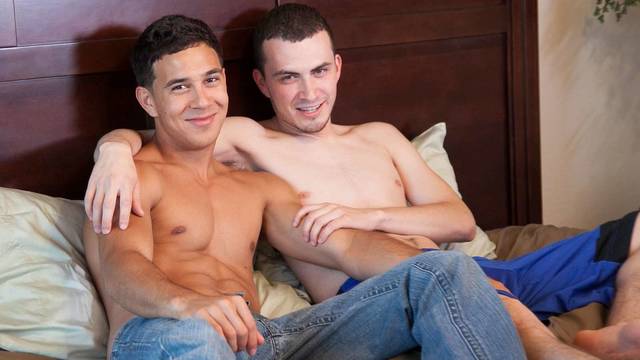 After spending a weekend getting fucked on camera by practically every guy we could find, we promised Damien Slater he'd be able to top soon enough. Although he balked — he's such a good bottom! — he beamed suddenly when we gave him his choice of guys to fuck. Naturally, he picked Joey Vox. We might have known since, in a previous scene, Joey had fucked Damien for more than two hours. After a good round of 69 (Joey's favorite), Damien got Joey on his stomach and slid his big uncut cock into that sweet, rarely fucked tight hole. Joey tensed up and gripped the mattress as Damien's manhood pried him open but after a few good deep breaths, Joey settled in and let Damien go for broke. Joey then decided he wanted to go for a ride so he sat on Damien's hard cock and worked it with his muscled ass. Joey's sweaty body bucked as he took Damien's cock balls deep, bringing a new meaning to the term "lap dance." Damien has a thing about sweaty guys. If the fucking is good enough that they both work up a sweat, it sends him over the edge. These nasty sweaty boys stopped fucking only long enough for Joey to take Damien's load in his mouth and share it with his new best friend. Later, after we'd put our equipment away and everyone had settled in for a cozy night with wine and a movie, Damien and Joey disappeared. And the moment we heard Damien's moans we knew Joey was giving it right back to him. Unfortunately, they'd locked the door on us. Don't you just hate it when you're not invited?
Wednesday, August 16th, 2017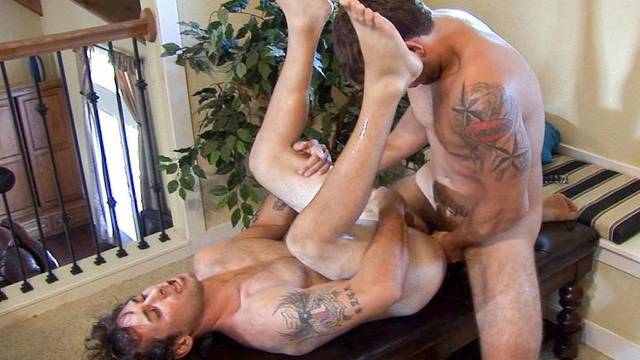 Beefy, tattooed muscled hunk Logan Taylor is a great bottom. In fact, we've heard from many models after filming with him that they couldn't stop thinking of the way Logan's ass and tight hole made them feel. A few even confessed that Logan had spoiled them for anyone else and wished they could fuck only Logan. It's a testament to how great a bottom can be but every once in a while, bottoms want to top and will stop at nothing until they get that urge out of their system. If they ever get it out at all! After all, sometimes, when a bottom goes top, there's no bringing him back. Logan was such a bottom. He wanted to top but he didn't just want to top any guy. He wanted to top a straight guy. Logan badgered us until we finally found him a straight boy to fuck. When we first met Gino, he said he was open for anything so we didn't beat around the bush. We put him to the test. We figured Logan deserved this one after all the cock he'd taken for us on camera. Now, Logan loves a big dick inside his muscled ass and he almost caved when he saw Gino but he was raring to go, especially knowing he was about to fuck a tight virgin hole! We've seen some tight holes but Gino took some work to open up. Logan used some toys on Gino and after loosening him up, Logan mounted the new stud and pried his ass open with his cock. And just in case you need a reminder of what it sounds like when a hard cock penetrates a virgin hole, be sure to turn up the volume. Or turn it down because Gino is a screamer. Either way you're in for a treat. The more Gino screamed, the harder Logan pounded, barely pulling out in time to spray his seed all over Gino's stomach, just before Gino shot his own load.
Wednesday, August 9th, 2017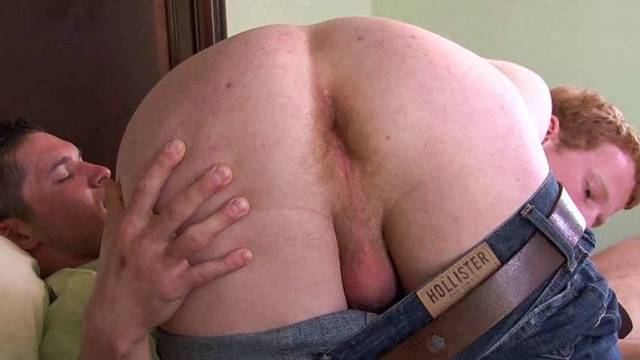 Ginger boy Cord made a special request for his 18th birthday. He wanted to get fucked by Haigan Sence. Cord had seen Haigan in a video and ached to wrap his ass lips around the dark haired stud's big angry uncut cock. Now, this is exactly the kind of thing that gets Haigan turned on. He loves hooking up with guys who really dig him. When Haigan arrived on set he said he had a 4-day load and was aching to erupt. Cord was all too happy to be the lucky recipient. The dark haired stud grabbed the back of Cord's head and shoved his semi-hard cock all the way down his throat. It was quickly apparent that this wasn't Cord's first romp in the hay with a big boy. Haigan face fucked Cord for a bit, until Cord got on his stomach and arched his back to present Haigan with that amazing moist ass. Haigan eased his big cock into Cord's wet hole, building up to a fierce banging. Haigan did what he does best and drilled Cord from every conceivable angle, just to make sure Cord could feel Haigan's tool inside him and remember him for a long time to come. When Haigan couldn't hold back any longer he pulled out and shot a rocket of cum across Cord's mouth and face, two feet over to the bed post. Cord lapped up the rest of Haigan's cum as he sprayed another huge load himself. We don't think Cord realized just how much cum Haigan was capable of producing but he certainly didn't mind. A MUST for those of you who love cum!