Posts Tagged 'cum'
Friday, January 29th, 2016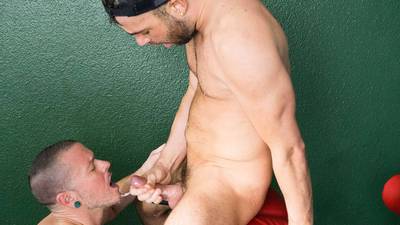 A man's gotta do what a man's gotta do. Even if that means being on set at 9am to film another hot scene during our Vegas Production. But it's easy when Entourage Las Vegas doesn't close. Max and Alex have worked before so we knew it would be a smooth scene. These two guys fell right back into it with great chemistry. Starting with some kissing, sucking and rimming before dick hung bottom Alex takes Max special "Breakfast Meat". They both put their morning wood to great use till they both shoot on each other. What a way to start a day!
Friday, January 22nd, 2016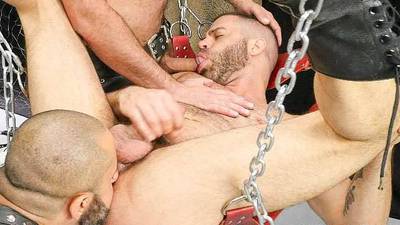 When you get these three hot guys, Amir, Marcus and Matthieu, in a scene together you can expect nothing less than fireworks. Amir and Marcus begin and Matthieu quickly adds in. Soon cocks and hot holes are dripping with spit getting their bodies ready for hot fun. Then it's time to pull out the toys! Major cock sucking and ass play is just the warm up to part 2 of this session. Enjoy!
Friday, January 1st, 2016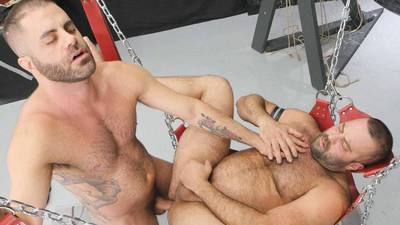 We brought Marcus up to Montreal for a filming weekend and paired him with some of our fun, hot guys like Mathieu. Who was more than happy to sit in the sling and be a trapped, dick slave for Marcus. Not on to shy from getting his hole licked, It was hot when Marcus decided to climb up the sling and sit on Mathieu's face, before jumping down and sliding his rock-hard cock into his willing bottoms hole. He worked that hole till he was ready to shoot a nice load out, in and all over it. Just in time for dinner! Check out this hot scene now!
Friday, December 4th, 2015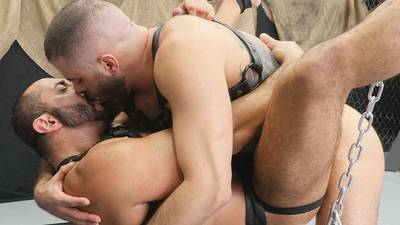 It was really hot working with Amir Badri and Marcus Isaacs as they broke in our new custom-made swinging fuck table. We don't usually fly in models but there was something about Marcus that made us go for it. Very happy we did. And I know Amir was happy too, as we watched the sparks fly as soon as they locked eyes, locked lips and staring sucking cock all before we finished the paperwork. So when it was time to film it was ready, set, go while we sat back and filmed the action. Kissing, sucking and ass rimming started off the scene which quickly turned into some hot, raw ass and toy play. Watching Marcus take Amir with his large thick tool will have you craving cock up your own hole for sure.
Friday, October 23rd, 2015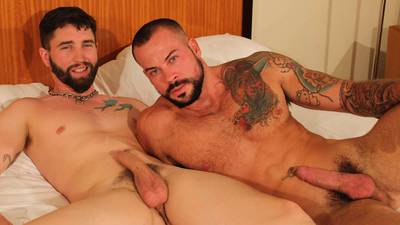 Bareback heartthrob Sean Duran is back for more raw action as he gets his chance to plug and pound Jackson Fillmore's tight pink hole. It doesn't get much hotter that this…and the sexual chemistry between them are intense and amazing. Jackson has no problem sliding down and riding Sean's stiff man pole. Looking deep into his eyes as his ass swallows Sean's cock balls deep. He is flipped over and fucked hard when Sean nails his bare butt and loads him up with his fresh seed. Jackson jerks his uncut cock and shoots his nut all over himself as an eager Sean cleans up the load and shares it back with his sweet bottom.
Friday, September 11th, 2015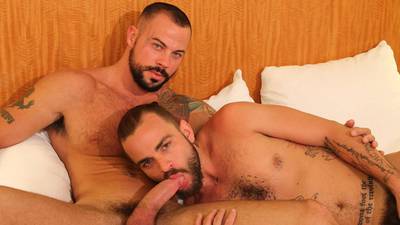 Sean Duran just can't get enough bareback hole and this time he gets to plug Lukas Cipriani deep and raw. It's not long before Lukas is bent over with his crack exposed as Sean's long tongue teases and taunts his puckering ass. He slides into Lukas's bare butt as he starts to nail him hard and fast. Lukas is thrown about the room like a rag doll as Sean fucks him to a pulp. His ass fully gaping open and begging for more Sean drops his raw seed draining his nuts into Lukas' eager hole…
Friday, September 4th, 2015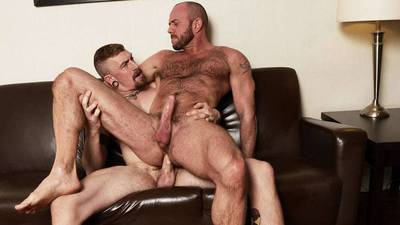 And the sex gets keep getting better and better when Jeff Kendall has Matt Stevens all to himself…the raw passion that they display for one another and the look of lust that you see in their eyes is enough to keep your boner stiff and hard…but when Jeff starts fucking Matt's bareback hole you know he's going to be getting a deep ass pounding…hot loads are shared as Matt's guts are loaded up with Jeff's seed…in this scorching session of man to man sex.
Friday, August 28th, 2015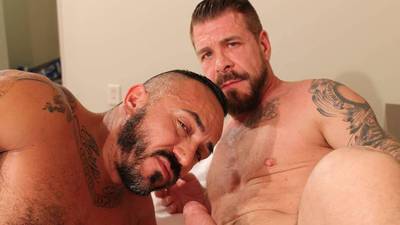 Rocco Steele delivers a powerhouse performance and this time he's partnered with friend and fuck buddy Alessio Romero. The sexual chemistry between them is fantastic so it's no surprise that this scene is scorching and torrid to the core. Rocco's impressive 10×7 inch cock is on full display and dominates Alessio's raw hole at every opportunity. He drills and pumps Alessio's bare butt fucking him any which way he wants. His furry hole is put to the test when he is impaled by Rocco's mammoth shaft. Rocco works his cock and blasts his juice all over Alessio's twitching hole. He spews all over himself just as Rocco's seed is being planted…He scoops up Alessio's load and feed it back to him as this sizzling sexual romp comes to a sweaty end.
Friday, August 14th, 2015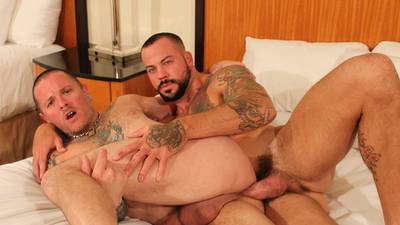 Sean Duran shows us his bareback prowess and what fun crossing over to raw porn can be when he fucks and fills Max Cameron's eager butt. Just new to doing bareback porn, Sean is a sexy beast that can't wait to nail Max's bare butt. He spreads his ass crack and shows Sean his wanting hole. Sean buries his raspy tongue in Max's firm cheeks and gives him a sloppy tongue bath. His ass ready for a hot poking, Sean slides his stiff shaft into his hole and pounds him deep. Max bares down and straddles his cock like a mad man as Sean thrusts into him…Max gets fucked, used, and tossed around like a rag doll as he has his way with him…panting hard and glistening in sweat they each shoot thick creamy loads of cum that they share and snowball together…
Friday, August 7th, 2015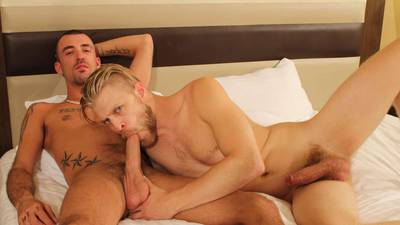 Jessy and Logan get some of the best cock they've ever had during their own private flip fuck party…each sporting a huge uncut cock and fully loaded balls…they take turns sucking and fucking one another bareback…Jessy's nuts overflow as he drops 3 loads during the scene…and Logan's ass only too willing to take each deposit…His bare butt is treated to a deep drilling by Jessy's thick uncut shaft and rewarded with load after juicy load. His heavy hanging bull balls are drained dry by Logan's talented ass. His own nuts get busted all over Jessy's hole as he breeds load #4 of the scene into his ass crack…He fills Jessy up to the brim with his seed pumping every drop into him.