Posts Tagged 'dick sucking'
Friday, December 25th, 2015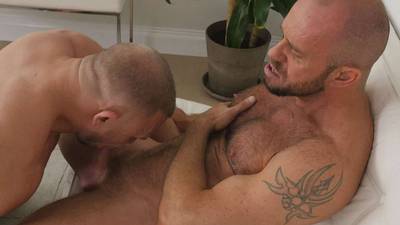 Matt Stevens and Daxton Ryker were the perfect pair to start off our production weekend in Fort Lauderdale. We picked them up, brought them to our super secret location and before long it was lights, camera and some hot, sexy, skin to skin action. They were into each other and it showed. From the way Daxton swallowed Matt's hard cock, to the way Matt slid in Daxton's wet hole over and over again before finishing up with a nice load all over it. Check it out for yourself!
Friday, September 25th, 2015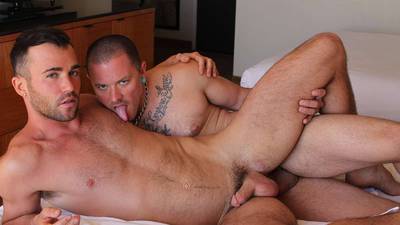 Max and Alex waste no time getting into the action as they kiss and neck on the bed naked. It's not long before Alex's face is buried in Max's crotch. He sucks and swallows his throbbing cock taking it deeper and deeper each time. Max flips him over and rims his butt, licking and teasing it to the point that Alex is begging for his raw cock. Max slides into his bare ass and fucks Alex hard. Whether it's in front of the mirror, on the desktop, or bent over the side of the bed, Max and Alex show us what happens when passion and lust combine forces. He shoots his load all over Alex's hole as he breeds his nut deep into him. Alex does the same and unloads his wad all over Max's hole. Max takes a quick seat onto his sloppy cock and rides him for a while making sure his entire load was captured. They taste and eat each other clean as they kiss and collapse onto the bed….
Friday, September 11th, 2015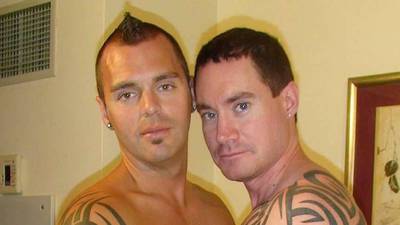 Andre Barclay is back with his cock of steel. This time he's paired up with virgin barebacker Jason Mitchell. The scene starts with Jason greedily sucking Andre's rock hard dick while Andre primes Jason's ass for a deep, hard fuck. Andre flips Jason on his back and gives his hole a tongue bath. Andre then thrusts his raw cock into Jason's spit-lubed fuckhole and pumps his ass like the Power Top that he is. Meanwhile, Jason's dick is dripping precum with every thrust of Andre's bare cock. Andre rolls Jason onto his belly. He then spits on the beefy jock's hole and slams his dick balls deep into Jason's well-fucked hole. Andre fucks the cum out of Jason and the cum dump spews his load all over himself as Andre continues to nail him. When Andrew is ready he pops his nut on Jason, giving him a cum facial, then feeds Jason the cum on his chest.
Friday, August 28th, 2015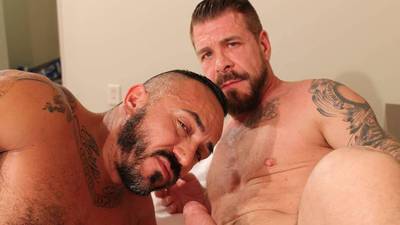 Rocco Steele delivers a powerhouse performance and this time he's partnered with friend and fuck buddy Alessio Romero. The sexual chemistry between them is fantastic so it's no surprise that this scene is scorching and torrid to the core. Rocco's impressive 10×7 inch cock is on full display and dominates Alessio's raw hole at every opportunity. He drills and pumps Alessio's bare butt fucking him any which way he wants. His furry hole is put to the test when he is impaled by Rocco's mammoth shaft. Rocco works his cock and blasts his juice all over Alessio's twitching hole. He spews all over himself just as Rocco's seed is being planted…He scoops up Alessio's load and feed it back to him as this sizzling sexual romp comes to a sweaty end.
Friday, August 21st, 2015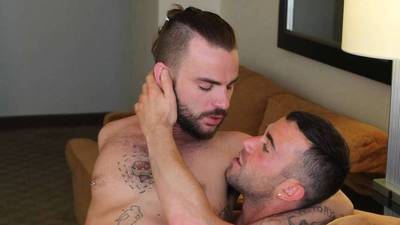 Alex shows off his versatility as he gets to ride Lukas' raw hole in this scorching scene filled with lots of hot sex and raw fucking. Lukas being the cock whore that he is has his face buried in Alex's crotch working his shaft and licking his balls. Alex is mesmerized by Lukas' round firm ass cheeks and can't wait to get a taste for himself. He eats and rims his hole making Lukas quiver in delight. Lukas can't wait to fuck his raw cock and feel it deep inside. He slides down on Alex's pole and rides his raw cock cowboy style…Lukas' mancunt gets stretched and used as Alex pounds away balls deep. Each of them shoot a massive nut for the other…Alex's thick creamy jizz gushes when he shoots all over Lukas's hole…and Lukas thanks him for it by unleashing a massive facial load all over Alex. Like we said…Hot!!!
Friday, June 26th, 2015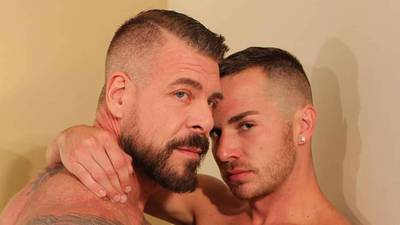 You would think that a sweet faced young Son like Parker Kane would be intimidated by the size and girth of Rocco Steele's Daddy sized cock but it was just the opposite…he wasn't in the slightest bit scared or taken aback…rather he couldn't wait to take on Rocco's thick shaft…. Parker gets mounted and takes a deep pounding when Rocco slides into his bare ass and impales him with that mammoth sized tool over and over again. Every inch is swallowed by Parker's ass disappearing after every thrust…Rocco sprays his cum all over Parker's hole then plants his dick firmly into his ass and breeds the rest in…just as Parker pops his load all over himself and shoots onto his chest and stomach…Daddy and Son kiss and hug as they clean each other up…and share the others load…
Friday, June 19th, 2015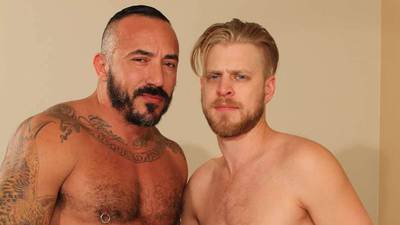 What do a handsome uncut Nordic stud and a sexy rugged Latin stallion have in common? That's an easy one…Flip Fucking and Barebacking an eager hole. There's plenty of that and much more as these guys waste no time in getting down to business. Logan savors the taste of Alessio's furry ass while Alessio feasts on Logan's foreskin and uncut cock. Neither guy can wait to slide into the other, and once they feel the other's raw cock pounding and drilling hard there's no stopping them…Logan drops a nut all over himself just as Alessio is unloading all over his hole and breeding it deep into him…not a drop is wasted as they lick each other clean and share the cum…
Friday, June 12th, 2015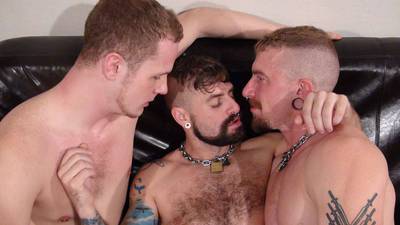 What an awesome trio as this time Jon is matched up with Jeff Kendall and fresh faced country boy Don James in this passionate and exciting three-way scene. Before the cameras even started rolling each guy had a stiff woody poking through his jeans…It's not long before shirts are being pulled off and zippers are being pulled down. 3 large sized cocks pop out standing at attention ready for raw action. Jon's ass is put to the test as he is tag teamed by Jeff and Don James showing us, and the camera his talented bottoming skills. He rides Jeff and Don James leaving their cocks wet and dripping for more…there's lots of kissing, groping, cock sucking, ass rimming, and bareback fucking ending in 3 huge loads that get busted hard…
Friday, June 5th, 2015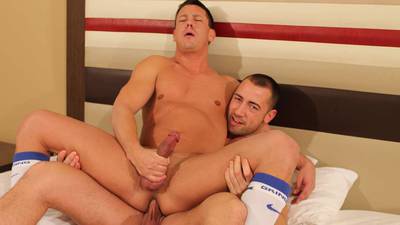 We told Ryan it would be great if he could have at least 3 fresh loads in his hole before we start to film…true to his name he did 4 better and arrived with 7 loads in his ass. Always in the mood for more, Ryan could not wait to get fucked and used by Donnie's thick cut cock. He saw Donnie's big meaty balls and knew they needed to be drained completely…Just as impressive as Donnie's nuts…Ryan leaks and streams load after load of his own cum multiple times during his now trademark, convulsing orgasms… Donnie is in prime form and in top shape himself as he mounts Ryan's sloppy hole. His cock slides in as he oozes into his juicy ass…this scene is a cum lovers delight and as nasty as it gets…Ryan dismounts from riding Donnie's dick…then licks and slurps the entire sloppy mess that he just created…when then, he unbelievably and incredibly turns into an even hotter Top that flips Donnie and fucks him raw…The sex is amazing and the cum…it all speaks for itself…
Friday, March 20th, 2015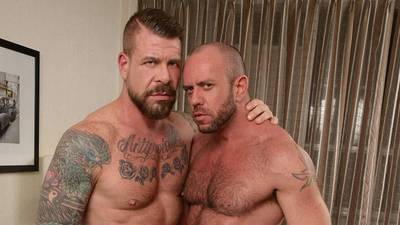 This is a Rocco Steele EXCLUSIVE in his 1st ever raw scene with bareback muscle bottom Matt Stevens and WOW do these masculine brawny studs deliver…Sizzling, Torrid, Blistering, pick any adjective you wish and you'll likely be talking about Rocco Steele's 10×7 massive cock and how it dominates every scene it's in and this one is no exception. Matt is put through his paces as he becomes Rocco's personal fuck toy. The sex starts in the living room and moves into the bedroom as temperatures rise and passions heat up. Rocco drills and pumps Matt's bare ass balls deep leaving him gasping and breathless. Matt proves his mettle and takes that mammoth shaft like a champion as they both shoot their loads…Rocco blasting all over Matt's hole and breeding his seed into him…while Matt spews all over himself as that seed is being planted…Rocco scoops up the loads and feeds it back to Matt as this blazing session comes to an end…This scene is 5 stars all the way and will quickly become one to add to your list of Rocco Steele favorites.