Posts Tagged 'jocks'
Monday, January 15th, 2018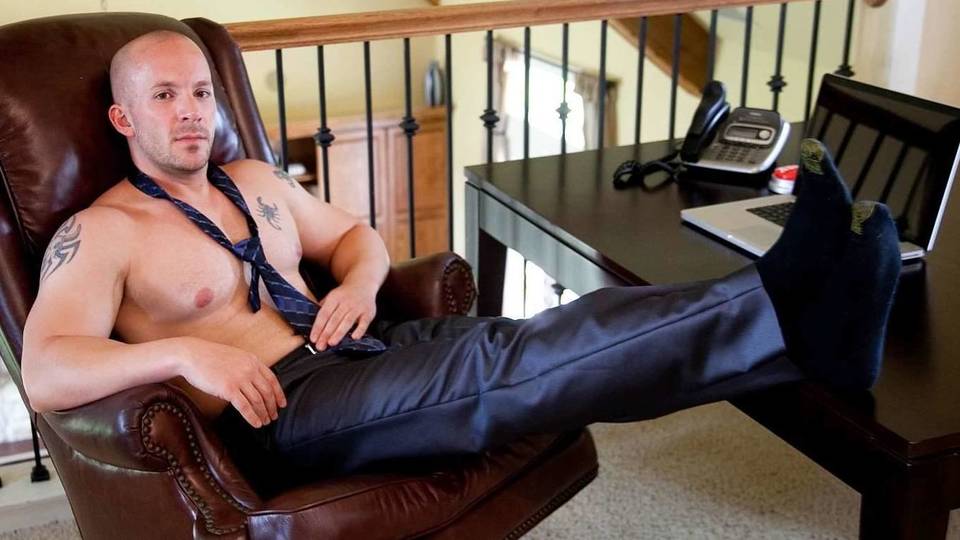 There's nothing like a well-dressed man to make you stop and take notice, especially when the man is Keith Reed. You can tall he's beefy and well-built, even under all those clothes. At 5'11" and 200 lbs, Keith's legs might be enough to make you melt but when you get a look at that meaty ass, well…hello Drool Central! Keith works his hard cut cock, stroking slowly back and forth, covering the throbbing shaft and mushroom head before letting out a loud moan and squirting a thick, huge load all over his desk. And it's a copious load, too!
Wednesday, January 3rd, 2018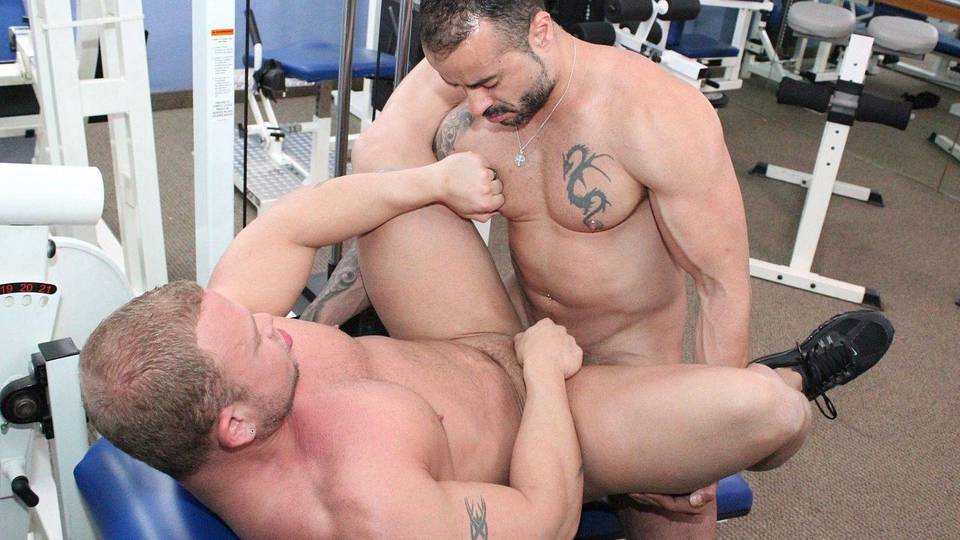 Gabriel Fisk wanted to get in a good chest workout but the gym was busy and getting to a machine was almost next to impossible. Luckily, he could work on the pec dec with this hot bodybuilder Daxton Ryker. Watching Daxton flex his pecs with each movement was making Gabriel's uncut cock drip with precum and knew he wasn't going to be able to finish his workout unless he pumped Gabriel's big butt! Daxton new this was going to be an exhausting workout and was glad his ass got a workout in too but was shocked to find out Gabriel was not the only one at the gym interested in his ass that day!
Wednesday, December 20th, 2017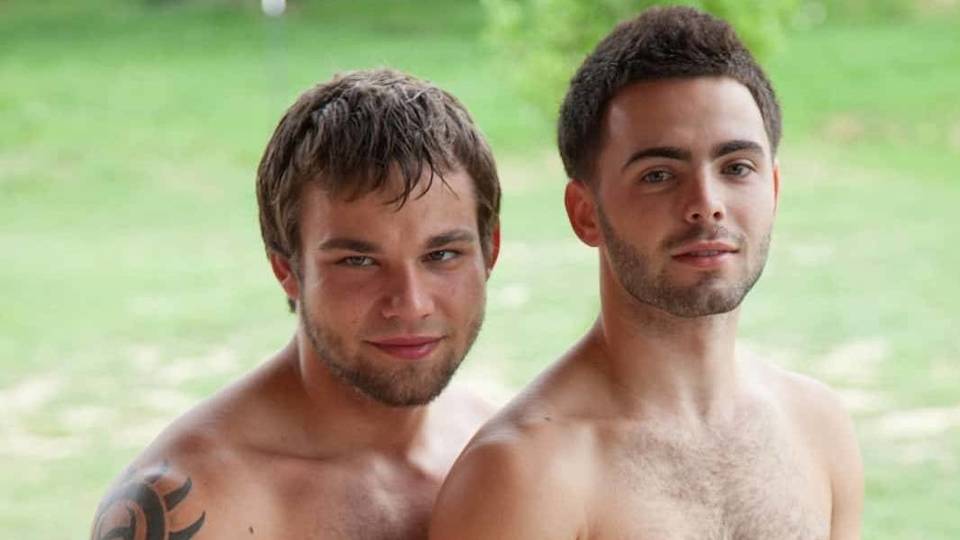 Josh Long and Logan Taylor are both young, horny and full of attitude. It goes great with their prowess and hit shows! We'd filmed them both but had never paired them together. And knowing their cockiness, we weren't quite certain if Logan and Josh would get into a tussle while fucking. On a perfect summer day, we found out. Logan went down on Josh's cock, getting him nice and hard which made Logan throw his ass up in the air and Josh to take him deep. Logan crawled up onto the table and got on all fours so Josh had to climb up to mount him. But once Josh eased his big hard cock into Logan's wet hole, he slowly opened up Logan's ass and stretched out his hole, turning up the heat as Logan all but purred like a kitten. Josh finished off Logan with a good pounding and a hard pile drive, balls deep until both studs dumped cum all over Logan's sweet, smooth body.
Wednesday, December 13th, 2017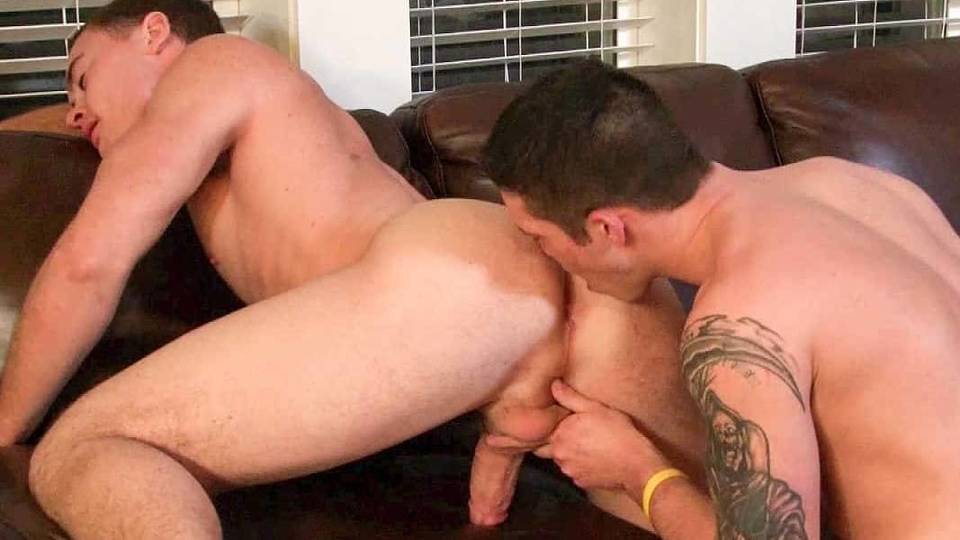 We've wanted to see Haigan Sence fuck Cole Markum for a while now. We'd contacted Cole to see if he would be interested but hadn't touched base with Haigan as we wanted to make sure Cole would be into it first. As for Haigan, he's mostly straight with a big cock, always horny and in need of getting off, so we knew he'd have no problem fucking Cole. Then came the surprise. On a snowy, wintery day, Haigan walked in followed by a shirtless Cole. Up went the lights and the camera's started rolling because these bad boys came ready to fuck! Cole and Haigan made out, shoving their tongues down each other's throats while naked in the middle of the room. After Haigan explored Cole's fine ass, the hunk dropped to his knees and sucked Haigan's cock deep into his mouth. Once that cock was primed full of spit, Haigan fucked Cole for close to an hour, filling, stretching and pounding Cole's hole while Cole's own huge cock bounced on his stomach. Haigan fucked the cum out of Cole then finished off by feeding Cole a big creamy load.
Monday, December 4th, 2017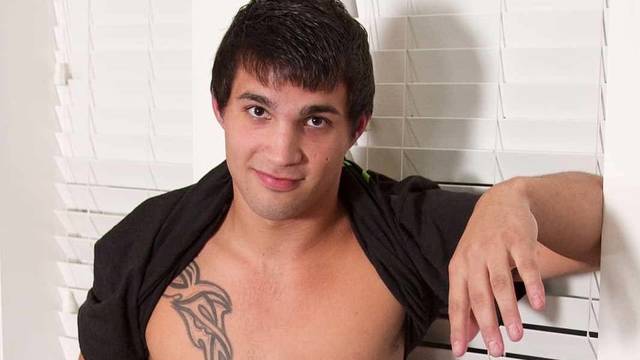 Marcus Steel came to us on a recommendation from another model. Frankly, we are grateful. Marcus has dark hair, brown eyes and beautiful, smooth olive skin. He is 6' tall with a gorgeous pair of hairy legs and a hot hairy straight boy hole. And he's not shy about his best asset which, according to him, is in his pants. Marcus stripped down slowly and showed off a naturally smooth chest, working his way down to his pants. After teasing us for a bit he dropped trou and laid back, fat cock in hands. We have to agree, Marcus' best asset is definitely his cock! Marcus granted us full view of his perfect ass while working his hard uncut cock. He didn't say much once he started jerking off but when he started to empty his nuts, he sure groaned as he milked out a nice creamy load!
Wednesday, November 29th, 2017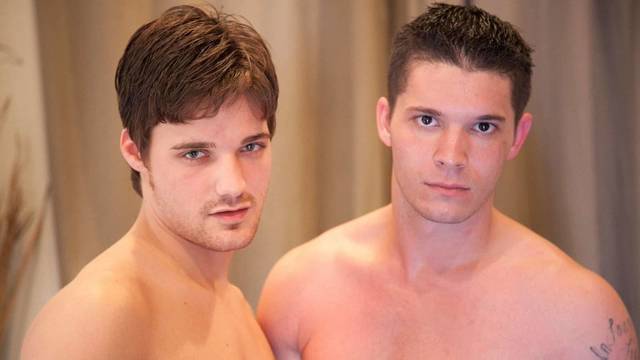 Krys Perez and Haigan Sence were hanging out, chilling. Trouble is, Haigan was horny. Then again, when isn't he? Always up for a scene, shoving his cock in a tight hole and getting off, Haigan made sure to let Krys know he had a 7-day load aching for release. Krys, who prefers to top, just gave it all up and turned into a big submissive for Haigan, who took what he wanted, stretching out Krys' holes with some deep drilling. Krys wanted to see Haigan shoot so he laid back and jerked off as Haigan unloaded all over his face and down his throat. Can't you just taste it?
Wednesday, November 15th, 2017
Jake Austin had been a fan of Haigan Sence for a while. They'd been sexting each other for close to a month, trying to schedule a scene. It took some doing but we finally got them in the same room at the exact same time. While Jake filled out his paperwork, Haigan kept distracting him by flexing his throbbing cock. Jake could hardly wait to wrap his lips around Haigan's cock and when he finally did, he sucked Haigan slow and deep. But Haigan is a fucker and always after a piece of tail. He bent Jake over the arm of the couch, filling his ass with bad boy uncut cock. Haigan actually threw us all off by fucking Jake slow, caressing his inked body. But after a while the old Haigan came back, picking up the pace and letting us hear the sound of his balls slapping against Jake's hot ass. The two fucked for a long while, ending up with Jake on his shoulders as Haigan fucked the cum out of him before milking out his own creamy load.
Wednesday, November 8th, 2017
Logan Taylor and Trevor Laster spent last summer hanging out, developing a sexy bromance that we naturally had to film. Hello, who doesn't love watching two sexy guys together, doing anything, let alone sucking cock and fucking? Both were willing, eager and excited to have us film their very first time together. They may have started out semi naked but soon took turns sucking cock. The energy between them just flowed so we took a step back and let them play, organically and without prompting. With Logan enjoying a good cock up his ass, we knew how he'd eventually end up. Of course, WE knew what Trevor was sporting but it was hot to see Logan's reaction as he hit the jackpot. Soon, he'd climbed on top of Trevor's beautiful monster and eased his way down the massive piece of meat. Trevor then bent Logan over the couch and gave him a good pounding. And there was Logan, crying out, "Fuck Me! Fuck Me!" Which only sent Trevor into overdrive as he plowed Logan while on his back, legs spread wide, that big fat cock destroying Logan's hole until they finished themselves off, leaving Logan drenched in cum.
Wednesday, November 1st, 2017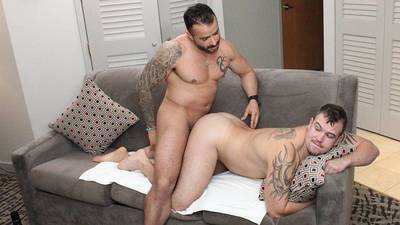 Having been at a conference all day, Gabriel Fisk was just having a long hot shower when one of his old fuck toys started texting him begging to get seeded. Chip Young was that horny boy who needed Daddy seed and his own personal Daddy was not returning his messages. Chip is not supposed to get seed on the down low but he was so desperate he hit Gabriel up to get some of that seed. Now Gabriel knew Chip was an owned boy and knew his Daddy personal but he didn't care either because he was used to going behind his back and fucking his boys. Wait until Big Daddy finds out!
Wednesday, October 25th, 2017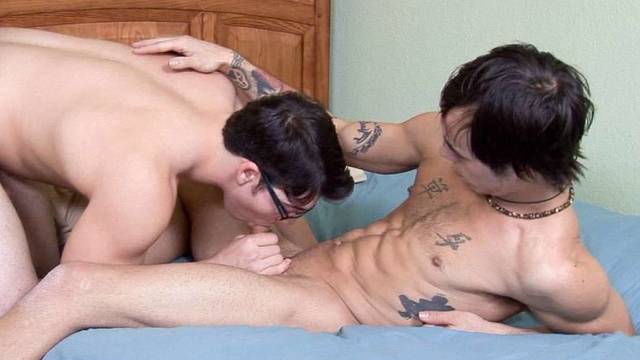 Clark G let us film him in a solo a while back and after, expressed interest in possibly getting it on with another guy. Naturally we thought of Genesis. We knew that if anyone would be able to guide Clark through his first time with another guy, especially in front of the camera, it would be the pierced and tattooed hung hottie. With Genesis's permissions, we shared a picture of him with Clark. He wrote us back telling us he'd DEFINITELY be up for fucking his first man hole. As it turns out, Clark had tried to hook up with another guy he met online but the guy couldn't take his cock. We guaranteed him there was no chance of that happening again. Genesis grabbed Clark by the back of the head and pulled him in tight for some hot kissing. Clark didn't put up a fuss and Genesis went further. He moved his lips down to Clark's neck, continuing further as he dropped to his knees, working his way down Clark's beefy torso. Clark wanted a taste of Genesis's cock so he pushed Genesis on his back, grabbed the shaft and started sucking. Genesis clearly enjoyed Clark's dick sucking but that wasn't what he was about. Not for this session. He needed Clark to puncture his moist hole! Genesis got on all fours and Clark mounted him, pounding Genesis in every position they could image. Finally, Genesis had to explode. With his Legs spread open wide and Clark drilling away, Genesis exploded with a huge stream of fuck juice. Clark followed, stroking out a load of his own and drenching Genesis's already cum drenched abs.