Posts Tagged 'matt sizemore'
Friday, October 17th, 2014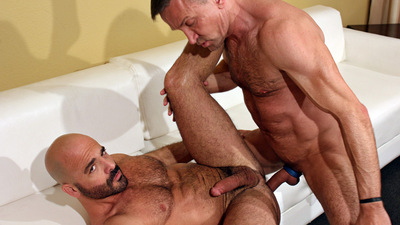 Adam and Matt are back in action as they tear up the screen in this sizzling bareback Sex Fest. Matt's hard cock and full nut sack are no match for Adam's many oral talents. He licks and strokes Matt's stiff pole with his raspy tongue leaving Matt shaking, quivering and ready for more. Adam's legs are spread wide open, and his fuzzy ass cheeks are exposed ready to be rimmed, eaten, and manhandled. But that's just the start…as we get an awesome glimpse of what both of these legends of Bareback Porn can get up to. Sweaty Sex and Raw Instinct are all on tap in this scorching scene that is not to be missed…
Friday, August 15th, 2014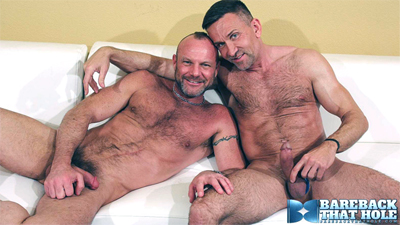 Chad Brock and Matt Sizemore sizzle in their hot bareback encounter of lustful passion and downright dirty raw sex. Chad is no stranger to Matt's cock as he sucks and swallows him balls deep. It's as if they were meant to fuck each other as the chemistry between them is fantastic! Matt rides Chad's ass bare and fucks him full of cock, pounding and plowing every inch along the way. Chad takes it like a champ as he rides and slides up and down Matt's stiff shaft proving what a great bottom he really is. Both of them are Bareback Legends in the making…
Friday, May 23rd, 2014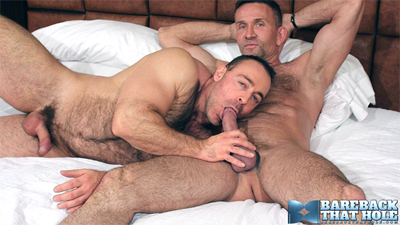 For this weeks update from BarebackThatHole, muscle bear and daddy lovers are going to get sprung when they get a load of Sexy Man Beast Brad Kalvo and Distinguished Daddy Matt Sizemore. As we start our session, the two men kiss and grope each other passionately. Matt's hands run through Brad's thick furry blanket of chest hair as their cocks rub against each other and do a bit of sword play. Matt leans back and gets serviced by Brad, who might be a top but knows how to take care of a good cock. Eager to return the favor, Matt buries his face in Brad's crotch, taking the throbbing tool down his throat as far as he can. Hungry for a taste of Matt's twitching hole, Brad throws him on his stomach, spreads his ass cheeks and rims him deep. Matt's hole is teased and taunted by Brad's raspy tongue and probing finger tips. Soon, Matt begs to be fucked hard, needing it NOW! Without a minute to waste, Brad slides his raw cock into Matt's bare welcoming hole. Straddling Matt's hips, Brad plunges deeper then mounts him from behind to fuck with deep hard thrusts. Matt's talented and very hungry ass swallows every inch of Brad's shaft as he takes inch after inch after inch of raw meat over and over. While bent over the side of the bed, Matt continues to get nailed by Brad, who pounds him hard until he shoots a massive nut all over his raw hole. Brad pushes the seed in and continues to fuck the load into him before Matt shoots and sprays his chest and belly with jizz, leaving Brad to lick him cleans.
Friday, April 11th, 2014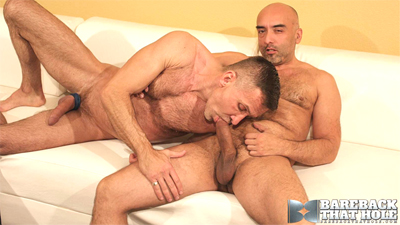 The fantasy of sucking a massive monster cock — or being taken by such an endowed man — is one many of us share. Even those of us who prefer to top or claim they would never bottom for another man. In reality, however, few can truly handle such a humongous piece of meat, let alone take it down to the balls. Throats only expand but so far and if we're talking hungry holes, then you have to REALLY want that slab of beef or enjoy the gut-wrenching, hole burning pain. Let's take Matt Sizemore as an example. When it comes right down to it, men like Matt — who are usually top — will become bottom whores for another with a really big dick. Let's face it. There's just something about a challenge, isn't there? Paired with Brian Davilla, Matt finds himself in just such a predicament. Standing naked in front of each other, hard cocks bobbing, Matt and Brian kiss and fondle each other as a warm-up to what will become one hot steamy fuck scene. Matt kneels to service Brian and is quickly brought to tears, choking and gagging from the sheer length and girth of his massive tool. And yet, he keeps going back for more! Such a greedy cocksucker. Eager to ride it, Matt straddles Brian, guiding the thick head of that throbbing shaft into his fuckhole and impaling himself. Matt rides him cowboy while Brian pile drives deep and hard from underneath. Matt's ass is stretched to the limit…and yet…his hungry hole just wants more. And despite the stretch, despite the pain, despite the tears and the sweating, Matt begs Brian to keep fucking, pounding repeatedly, until he's ready to deliver the load. Each masculine Daddy ends up busting his all over as they cling to each other in this sizzling display of raw man sex.
Friday, March 7th, 2014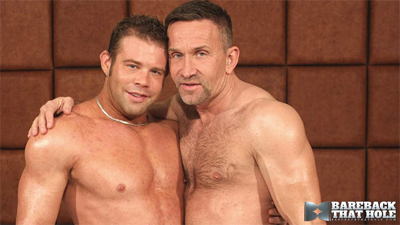 As the camera fades in on this weeks scene from BarebackThatHole, we see distinguished Daddy Matt Sizemore servicing beefy bodybuilder Darius Soli. This turns into some intense oral action and it's not long before they're locked in a 69, with Matt throat fucking Darius. What Daddy wants, however, is a good fuck so Darius goes about prepping Matt; first with his raspy tongue buried deep in his ass and teasing the puckered entrance, then with his fingers, prying Matt open and stretching his hole. The salt-and-pepper Daddy moans and groans like a whore in heat, all in anticipation of what's to come. His hole gets twitchy and before long, Matt's sliding down on the throbbing shaft Darius has to offer. It's all raw, with a thick head, and Matt loves it as Darius then drives into him, raw, deep, and hard. Matt begs for more and his hungry, willing hole takes a pounding. Darius goes to town without hesitation, knowing what Matt needs and wants. Fucking with long thrusts, every inch of his cock sinking into Matt, Darius ends up blasting a huge nut all over Matt's pulsating ass. He breeds his load into Matt's ass, planting every drop of his sticky seed into Daddy's freshly fucked, sloppy manhole as Matt himself shoots his own wad all over his stomach. Darius feeds the creamy goodness to Matt then shares a sticky, salty kiss before collapsing in bed in a sweaty embrace.
Tuesday, September 24th, 2013
Seed Pumpers is full of hot guys ready to fill up your tank! This movie will have you unloading over and over again!
Saturday, September 14th, 2013
Wet Breeders is the best of two worlds. 1. Wet; it's what you get when you have seven talented, tanked up guys that love to share their piss with each other. The piss play gets the cocks hard and the holes eager for action. 2. Breeding; it's the fucking and depositing of cum up a man's ass. By the end of the day, the men are drained and covered with piss and cum. A happy ending to another Dick Wadd Classic.
Sunday, September 8th, 2013
Sebastian Rio's huge Latin cock fucks the little ass of Patrick O'Connor while Matt Sizemore's 9" monster meets Preston Johnson's bubble butt. Sage Daniels & Matt double dick the slut hole of Drew Sumrok while Preston's muscle slut holes gets used again by daddy Kyle Savage!
Watch the Full Length, High Quality Movie!
Stars: Preston Johnson
Studio Name: RawJOXXX
Sunday, September 8th, 2013
Christian Matthews takes on bossy bottom Preston Johnson while Kyle Savage pushes around big dicked Matt Sizemore. Daemon Sadi's huge black cock punishes Santiago Rodriguez's slut hole and then Tyler Reed puts bossy bareback bottom Preston in his place and power fucks his slut hole!
Watch the Full Length, High Quality Movie!
Stars: Kyle Savage Matt Sizemore
Studio Name: RawJOXXX
Saturday, July 6th, 2013
Don't miss loads of raw barebacking action from Ricky Raunch in "Cum On In!"