Posts Tagged 'older guys'
Wednesday, January 3rd, 2018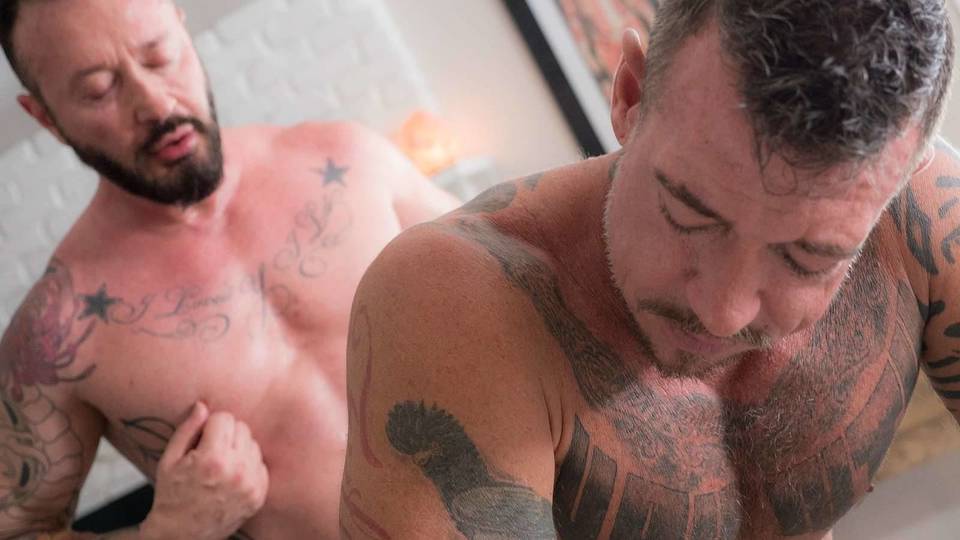 Ray Dalton and T. Wilcox are a pair of noisy fuckers. No, we don't mean they're loud or obnoxious, like crass party guests crashing a black-tie affair. We're talking about the noise we make when we're having sex. Like the song from Avenue Q says, "You Can Be As Loud as the Hell You Want (When You're Makin' Love). Ray and T definitely subscribe to that philosophy but these two aren't making love. They're giving in to their most base desire and fucking like animals. They do NOT believe in keeping quiet and from start to finish, these sexy tattooed and painfully hung daddies are all about tuning in to each other, giving in to their primal urges and don't give a shit about their surroundings. And they take their sweet, mother fucking, ever loving time, too! T pumps Ray full of cock, stretching him out and open with that fat slab of daddy meat. THIS is what it sounds like when demons fuck.
Wednesday, December 6th, 2017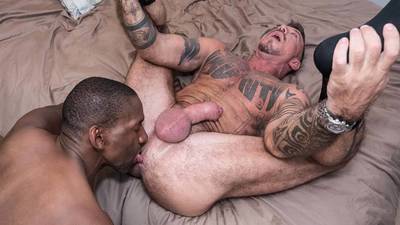 Jack Simmons and Ray Dalton re-unite after a chance encounter at a gym, twenty years ago. The well-dressed daddies are eager and super excited to get it on and it shows. The interracial bareback couple waste little time in stripping down, teasing each other as they make out and suck some H-U-G-E cock. Both are just about equally matched but Jack is clearly a bit bigger and a bit thicker. Tattooed and hairy Ray throws his legs up in the air because he knows what Jack wants. If you're into rimming, watching Jack lap up Ray's starburst will have your tongue wagging. How do we know this? Because that was OUR reaction! But the heat doesn't end there. Jack slides that enormous monster cock into Ray using only spit for lube. Then he starts fucking. Ray eggs Jack on and while the black monster hung daddy fucks, we get to see Ray's ass lips getting stretched out. Jack thrusts, pumping back and forth, showing plenty of length as he pulls out almost all the way to the head, then slides back into that warm, moist manhole. Ray devolves from being a hung bareback top dad to being Jack's personal bottom bitch, taking every single inch Jack has to offer, as well as his seed. This is nonstop bareback fucking at it's finest, with two of the hottest daddies in porn!
Wednesday, October 25th, 2017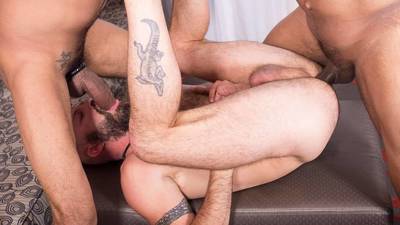 Mickey Carpathio is looking for a new job and the two men conducting the interview are none other than Saul Leinad and Tancredo Buff. Bald and bearded Mickey is petite compared to Saul and Tancredo and they put him through the ringer, testing both Mickey's oral skills and anal. We don't know what job Mickey has applied for but frankly, when you're caught between a rock and hard place, does it matter? Mickey is offered not just one, but TWO huge cocks, including Saul's uncut monster. The petite white man clearly knows how to handle cock and the fact that it's Latino and Blatino meat, sends Mickey into a frenzy as they spit roast and tag team eager Mickey repeatedly, all while spewing a litany of dirty talk, much of it in Spanish, detailing the perversions in the scene. We're talking 30 minutes of daddy-on-daddy monster cock sucking, rimming, balls deep bareback fucking and thick juicy daddy loads. Think you can handle it?
Wednesday, July 26th, 2017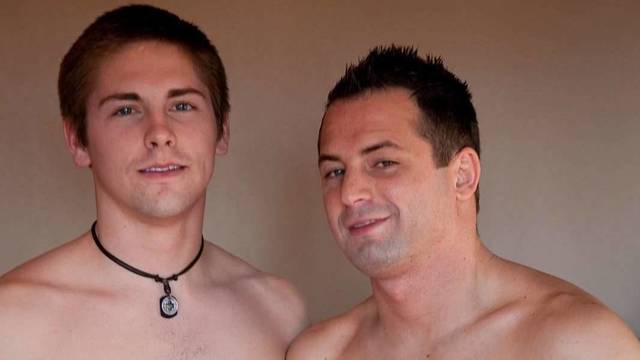 Jason had been wanting to fuck Jake B's tight little hole for a while now so we made sure to pair them up just as soon as we could. Then, when we heard Jake admit he'd been wanting to get fucked by Jason we knew we were about to witness something sinsational! In the bedroom, we turned the cameras on and just let them go. We don't think either of them gave thought to the fact they were being filmed. And if they did, it only turned them on even more. They started off with sweet little kisses as they stripped each other naked and looked more like they were about to make love, rather than fuck. Jake kissed every inch of Jason's body as he made his way to Jason's cock. Jake then took Jason's cock in his mouth and started sucking. Once Jason was fully hard — which was almost instantly — Jake was ready for full-on penetration. In fact, Jake received much more than a balls deep fuck. He took it in every he could think of before finishing with a good, hard doggie pounding. Jake let Jason spray his hole, coating it with jizz and Jake finished by dumping a load of his own, barely touching his dick!
Wednesday, June 28th, 2017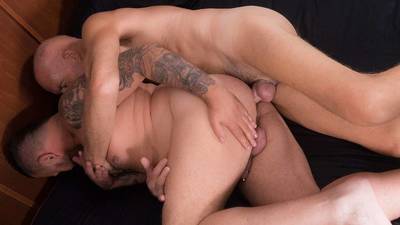 Bald and goateed daddy Hart Caldwell is taking care of business while watching porn. Using a Fleshjack to jerk off feels good but not nearly as good as a hot mouth or a tight, raw ass. The tattooed daddy is a bit surprised when his new neighbor shows up to borrow a screwdriver. What's a horny dad to do but tell tattooed muscle hunk Adam Knocksville he's got a screwdriver for him then wave his big hard cock at him? Adam swallows that thick slab down to the balls before giving up his ass and getting fucked bareback with only spit for lube. The cock-crazed bottom rides Hart for a while before getting on all fours. Hart drills Adam, fucking that sweet hot muscled ass bareback before each unloads with a juicy load.
Wednesday, May 17th, 2017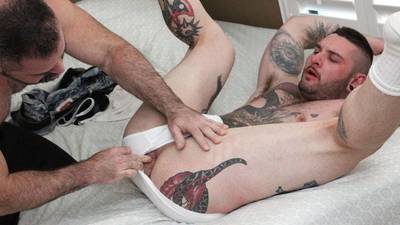 While laying in bed together, Bishop Angus and Teddy Bryce start to browse porn on their iPad. Teddy is curious to see what kind of porn the hot, older stud is into. Bishop suggests Tyler Reed's site, BarebackFlixxx. Teddy is slightly apprehensive about bareback porn but is secretly turned on. The two muscle studs begin to get naked and Bishop is ready to shove his fat dick into Teddy's eager hole. Bishop's cock feels so good in Teddy's ass that he begs Bishop for his raw cock and to take his Daddy seed!
Wednesday, April 19th, 2017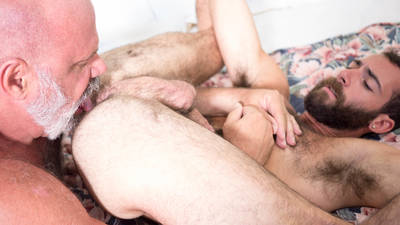 Big, bald and beefy Tony DaRimma is just what Stephen Harte needed. A silver daddy with passion and the stamina to take him to the edge. Bearded tattooed Tony stars making out with bearded slender otter Stephen, playing with his pert round ass before throwing his arms up for some pit service. Tattooed hairy Stephen then gets a bit aggressive as he pulls off Tony's shorts and starts working on that fat cock. The two take turns sucking each other before they get into a 69 position, with Stephen devouring Tony's cock while Tony makes a slurpy meal out of Stephen's hole. Then, once he's well and truly primed, using only spit for lube, Tony slides home, balls deep. The burly daddy goes to town, pumping and thrusting in and out of Stephen, bareback fucking the slut the way he deserves to be fucked. Stephen takes it all as Tony takes ownership of that sweet raw hungry ass and marks his territory, fucking the cum out of the younger, horny pig bottom jizz hunter.
Friday, March 31st, 2017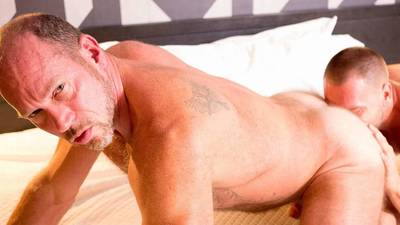 If ever there was a daddy/son duo you can sink your teeth into and fantasize about whether or not they actually are, it's Hans Berlin and Randy Harden. Clad in nothing but jockstraps and their sheer sexy horniness, the hairy, bearded, tattooed daddy and bearded hung son take turns sucking each other, showing off their oral skills. But daddy Randy wants more. He quickly presents his ass to Hans, who dives in tongue first. Rimming Randy's hairy hole, Hans spit-lubes Randy then gets him on his back. Using mostly spit and a bit of actual lube, he wastes little time in sliding that big fat cock come. Daddy Randy, being the versatile bottom that he is, loves that younger raw cock pounding his ass and stretching him open but needs a bit more control so he applies more lube and straddles Hans. Randy rides Hans deep but the job of a man like Hans is to satisfy his bottom with a good hard balls deep bareback fuck, pounding away until he fucks the cum out of his whore. And Randy does just that, soon delivering a load of his own, breeding the jizz-hungry daddy like a good top should.
Friday, March 10th, 2017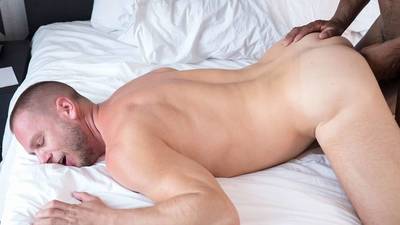 The sleazy bareback action continues at Inn Leather, in Fort Lauderdale, with fuck buddies Ethan Palmer and Justin Case. And speaking of which, just in case you're just now joining us, Ethan was spit roasted and tagteam fucked by daddy/son duo Victor and Jusin in part 1. Ethan, who truly enjoys being skewered, in part 2 now gets his holes well and truly used and stretched out. He's stuffed full of big cock and royally plowed bareback by Justin and Victor, who keep trading back and forth. The fuck is rough and hard and fast and furious. In fact, they fuck so hard and rough we thought the fuck bench was going to collapse! But that work horse held, and so did Ethan, whose screams filled the room, used and fucked stoopid!
Friday, February 24th, 2017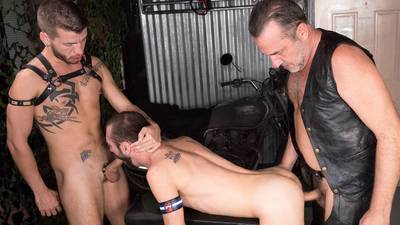 Ethan Palmer and Justin Case are occasional fuck buddies. The tattooed, bearded hunks also share several fantasies between them. Some are fairly light and quite vanilla but some are dark and twisted, bordering on the taboo. That's where Victor Cody comes in. The bearded silver daddy is Justin's friend and when Justin told Victor Ethan wanted to be tag teamed and spit roasted by a daddy/son duo, Victor readily agreed. Ethan shows off his cock sucking skills, first devouring one, then the other, then both. Each hung top has his way with Ethan's throat, skull fucking the greedy man whore until Ethan either can't take it anymore, can't breath, or needs more. Justin takes over for a while, sucking his fuck buddy and "daddy" as well before he and Victor spit roast and tag team Ethan, rimming and fingering that sweet hole and prepping his tight ass for a good raw fuck. Filmed entirely on location at Fort Lauderdale's own Inn Leather!