Posts Tagged 'preston johnson'
Wednesday, July 30th, 2014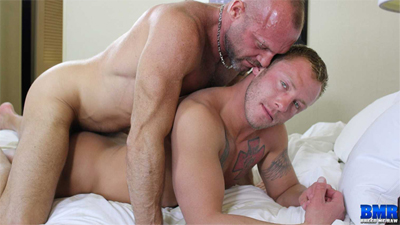 Chad Brock loves him some boyhole, especially if it's on a well-used muscle whore like Preston Johnson. Chad picked up Preston at the IML party and soon after was getting his cock sucked deep by the hot, cock hungry hunk. Chad flips Preston on his back, his big legs up in the air, and eats out that loose hole. He gets it really wet, using only spit for lube so he can slide his thick meat up inside him for spit-n-shove bareback fuck. Of course, knowing Preston, we wouldn't be surprised if he already had several loads inside him but gave that slut hole exactly what it wanted — and needed — which was a nice juicy load!
Wednesday, December 11th, 2013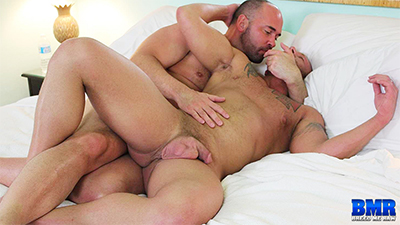 Tyler gets another chance to have some Boy Toy beefy bottom butt in Florida, primarily Preston Johnson. The cornfed bareback sex addict was already exhausted from his flight. He'd also been pounded by Christian and, of course, Preston had gotten in his cardio for the day by pumping away at Christian's furry hole in a rare topping moment. Preston was definitely tired and wanted to soak in the hot tub at the resort. Needless to say, this insatiable cum pig got hungry again and, paying attention to his hole's needs, made his way to Tyler, sniffing around after Big Daddy like a bitch in heat. And who was Tyler to say no? The beefy, thick hung top fucker went after Preston with aggressive penetration. But after a while, Tyler realized the slutty hole needed more cock so he got Lex Antoine, the camera man for this scene, to cram his huge fat dick inside Preston. The cum dump got another deposit and Tyler jumped back in to creampie the mancunt.
Friday, November 29th, 2013
What do you get when you put together a hot masculine daddy, a tall lean athlete, and a Midwest muscleboy? If the trio is Randy Harden, Mason Garet, and Preston Johnson, you get a bareback threeway with two bottoms competing not only for daddy's attention, but his cock and load as well! And what daddy doesn't want his bottoms to worship his cock and balls? This threesome is guaranteed to make you pop a woody, especially with Mason and Preston servicing and swallowing Randy's stiff cock, giving him the attention he deserves. Each cock whore mounts and rides Randy's raw pole and he soon finds himself tested as he plugs first one, then the other. Randy nails each hungry hole, side-by-side and back-to-back in a fantastic display of Top aggression. But who get Daddy's hot load? We'll leave you to find that one out for yourself.
Wednesday, November 27th, 2013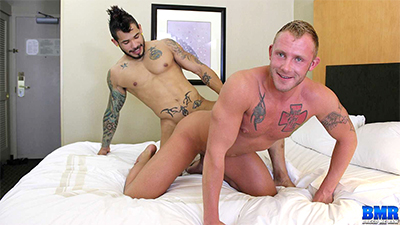 When you put together two cocky versatile bottoms in the same room, it can be an explosive combination. 5'5″ bodybuilder Draven Torres walked into the room thinking he was going to fuck Midwestern farmboy Preston Johnson. The trouble was that Preston thought the same thing. So, with each vying for top position, the sparks began to fly. It was decided that whomever gave the best blowjob would be the one to throw his legs up in the air. But once the action got started, it soon became obvious who was going to get fucked. The competition was thrown out the window and the pissing match became what it was supposed to be: the biggest whore taking raw cock and getting seeded. Can you guess which of these two bareback sex freaks was the bottom? Surprised? We weren't!
Wednesday, October 2nd, 2013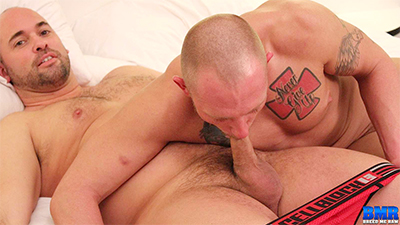 I always like breaking in a new hot muscle boy into bareback porn. Preston Johnson wanted his cherry and I couldn't resist. Preston got right down to business and impressed me with his deep throat skills. Not even a gag reflex! This bottom knows how to suck a nice curved cock the right way. He's definitely a deep throat cocksucker with a balls deep past. I didn't waste time in flipping him over. Using spit for lube I shoved my meat up his manhole, which was already nice and loose. He may a virgin to bareback porn but this boys butt has been used! Probably even already had a load or two inside his hungry fuckhole. I finished off with a nice load for the cum dump and he was VERY happy.
Friday, September 27th, 2013
We join Chad Brock and Preston Johnson, make-out session already in progress. The tattooed blond bottom goes down on Chad, who now embraces his inner daddy. The bearded, pierced stud enjoys some deep throat before taking charge of Preston's hole. Spitting, fingering, and rimming the tight, pink starburst, Chad then mounts and fucks the bareback bottom. But just as there are submissive bottoms, Chad ends up as a submissive top when Preston takes over ans shows how big of an aggressive bottom he can be! Then again, if you know what you want, might as well go for it, right? And Preston does, shooting a load on his belly which the two then share before Chad delivers a load of his own, half of which spills onto Preston, the rest seeding the cum collecting dumpster.
Saturday, September 21st, 2013
Needing Breeding is a hot blend of raw fuckers, ass seeders, and deep breeders in 5 smoking bareback scenes. No hole is off limits and is guaranteed to be filled. Stiff cocks unload fresh seed right between the cheeks. Bareback legend Sage Daniels along with newcummer Preston Johnson sizzle in their sweaty raw fuckfest that will leave you dripping for more..
Sunday, September 8th, 2013
These sexy guys know how to fuck a slut hole. Watch Bo Banger, Drew Vergas, Kamrun, Patrick O'Connor, Preston Johnson, Sage Daniels, Santiago Rodriguez, and Tom Colt in hot fucking action!
Watch the Full Length, High Quality Movie!
Studio Name: Alpha 1 Men USAJOCK
Wednesday, September 4th, 2013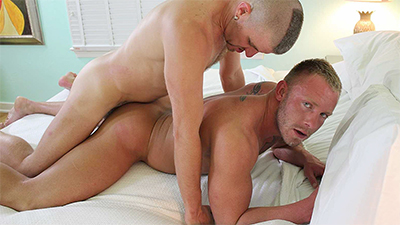 Mid-western bareback bottom Preston Johnson was scheduled for a bareback scene with Florida pup Christian Matthews. The only problem was that Preston's flight was delight and it was becoming clear we might not have a scene. Fortunately, the universe prevailed. Preston made it to Fort Lauderdale and Christian was ready to roll. In fact, these two wasted little time. Practically fresh off the plane, Preston's hungry fuck hole was ready to take on Christian's fully erect cock. And if we didn't know any better, Christian was just as eager to be with Preston, having been unable to relax until his arrival. The moment the beefy corn-fed cock hungry whore walked in, Christian was hooked. He got a taste for some Midwest beef and…WTF?!? Preston tops? Who knew? He slam fucked into Christian's puppy hole, taking back the memories of some Florida cock and a furry hole to keep him warm back in corn land.
Friday, July 26th, 2013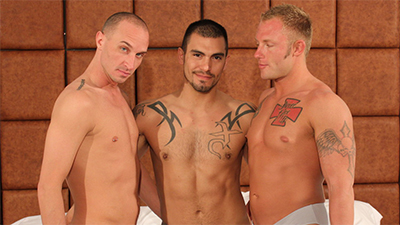 If you like threeways, you're going to LOVE this group of bareback fuckers! Austin Dallas, Sage Daniels and Preston Johnson are hungry, greedy, and unpredictable. By that we mean that you just DON'T know who's going to do what to whom. And the last time any of us were in the middle of a 3-way, that was part of the beauty of it all. You just didn't know if you were going to be the one sucking cock, getting sucked, rimmed, rimming holes, or end up in the middle getting spit-roasted! Same thing with these raw piggies. Except that, after a while, you get a clear picture of who is going to be the bareback bottom for the other two. Even though Sage makes a meal out of Austin's big, beautiful and juicy cock, Sage and Austin feed off Preston and his holes, rimming and stretching him out until the bareback whore ends up with a huge cum facial and Sage's protein seeping into his butthole. Which, of course, is exactly where cum belongs.