Posts Tagged 'sucking cock'
Friday, November 25th, 2016
Country boys Ricky Boy and Thomas Finn are fucking HOT! With naturally toned bodies from working in the fields, the two workout but find it's much nicer to relax on the sofa after a hard day. And what better way to unwind than working up a sweat as they suck each other off and take turns rimming hot, luscious asses? Fair Thomas lies back and, after Ricky worships his delicious, throbbing shaft, raises his legs up in the air for Ricky to rim his ass and finger his hole. Tattooed Ricky relaxes Thomas with his tongue, fingers AND spanking! Then he teases Thomas by working half of his cock inside him before slamming the entire thing balls deep inside him. It's definitely worth the wait to see the buff bottom covered in fresh, hot jizz!
Friday, November 11th, 2016
Sweet and sexy Alex Stevens heads out for a walk with tall and handsome Chris Fox. They're taking in the sights of Prague on a hot sticky afternoon, but both have an idea of just how sticky they want it! Jumping in the shower, Alex washes off the sweat, and Chris jumps in halfway through, giving Alex a great blowjob in the bathtub!! Diverting to the bedroom, both sporting massive hard-ons, Alex takes the passive lead, sucking on Chris's lovely looking dick and licking his hot young hole until Chris is too turned on, and slides that spit-soaked shaft right up into Alex as he rests easy on top of it. Flipping him over, superstar Alex gets the urge to repay the fucking favor, and Chris gets his first taste of raw dick inside that twink hole of his, but greedy bottom boy Alex wants the last ride of the afternoon, and he's soon back bouncing on top like a prize-winning jockey!
Friday, February 19th, 2016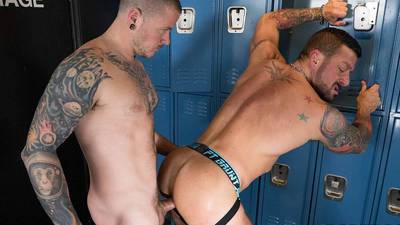 This is my first time working with these two sexy men and I'm glad I found them. When I put these two together they both instantly were into it. Never having worked directly together on film was fun for the both of them and Entourage Las Vegas was the perfect backdrop. Watching Max swallow Hugh's HUGE tool was very hot but watching Max fuck the shit out of Hugh was hotter. In and out, up and down till both loads flew. A scene you for sure don't want to miss.
Friday, January 22nd, 2016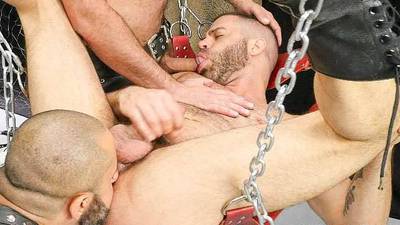 When you get these three hot guys, Amir, Marcus and Matthieu, in a scene together you can expect nothing less than fireworks. Amir and Marcus begin and Matthieu quickly adds in. Soon cocks and hot holes are dripping with spit getting their bodies ready for hot fun. Then it's time to pull out the toys! Major cock sucking and ass play is just the warm up to part 2 of this session. Enjoy!
Friday, January 15th, 2016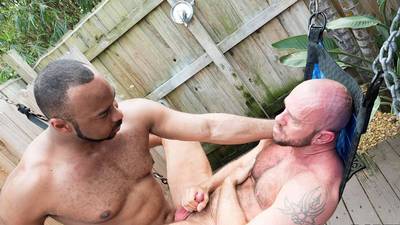 The inn leather of Fort Lauderdale, FL was the perfect setting for this hot scene between Ray Diesel and Matt Stevens. They didn't mind that a party was going on and people watched. Some hot kissing and cock sucking quickly turned into Ray's huge cock being sucked up by Matt's open hole. Watching those two fuck in the open air was very hot. They had a great chemistry which ended in two very messy cum shots. Enjoy!
Friday, January 8th, 2016
We loved working with this real-life couple. No drama and No stress! Just hard cocks, wet holes and cum shots….OH My! We met them at our spot and brought them to our bear cave. Filled out the paper work, set the lights and it was action. On set, Mario and Mateo did just what sexy couples do. Started with some kissing, cock sucking and rimming before Mario stuffed his cock into Mateos hole. You can tell it had been awhile, you know with real-life taking over, but once that hole was stretched it was on. Check it out.
Friday, January 1st, 2016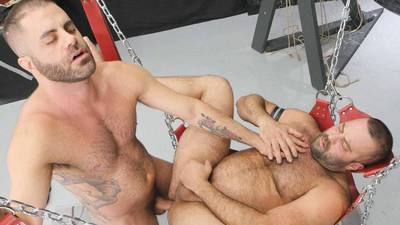 We brought Marcus up to Montreal for a filming weekend and paired him with some of our fun, hot guys like Mathieu. Who was more than happy to sit in the sling and be a trapped, dick slave for Marcus. Not on to shy from getting his hole licked, It was hot when Marcus decided to climb up the sling and sit on Mathieu's face, before jumping down and sliding his rock-hard cock into his willing bottoms hole. He worked that hole till he was ready to shoot a nice load out, in and all over it. Just in time for dinner! Check out this hot scene now!
Friday, December 25th, 2015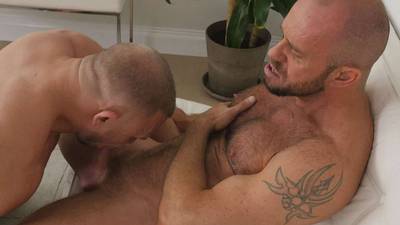 Matt Stevens and Daxton Ryker were the perfect pair to start off our production weekend in Fort Lauderdale. We picked them up, brought them to our super secret location and before long it was lights, camera and some hot, sexy, skin to skin action. They were into each other and it showed. From the way Daxton swallowed Matt's hard cock, to the way Matt slid in Daxton's wet hole over and over again before finishing up with a nice load all over it. Check it out for yourself!
Friday, December 11th, 2015
We caught these two walking in the rain and invited them to hang with us back at our house. Granted it was a planned meeting, but in fact it was raining and we did pick them up. But what wasn't planned was how hot the two of them would be together! Watching Sean deep throat Ray was a beautiful sight. As was seeing Sean take Ray's monster cock with ease as his warm and wet hole sucked it right up, which made for a good ride from Ray. Damn Sean's hole can take a pounding. A challenge Ray didn't back down from. You can tell how good it felt as Sean's eyes rolled in the back of his head. But watching both of these sexy men cum was the icing on the cake! I'm sure you will enjoy it too!
Friday, December 4th, 2015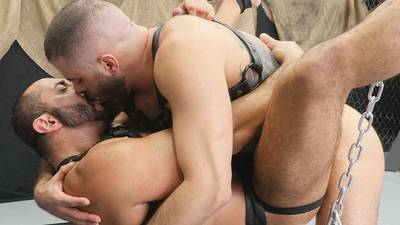 It was really hot working with Amir Badri and Marcus Isaacs as they broke in our new custom-made swinging fuck table. We don't usually fly in models but there was something about Marcus that made us go for it. Very happy we did. And I know Amir was happy too, as we watched the sparks fly as soon as they locked eyes, locked lips and staring sucking cock all before we finished the paperwork. So when it was time to film it was ready, set, go while we sat back and filmed the action. Kissing, sucking and ass rimming started off the scene which quickly turned into some hot, raw ass and toy play. Watching Marcus take Amir with his large thick tool will have you craving cock up your own hole for sure.