Posts Tagged 'uncut cock'
Friday, November 11th, 2016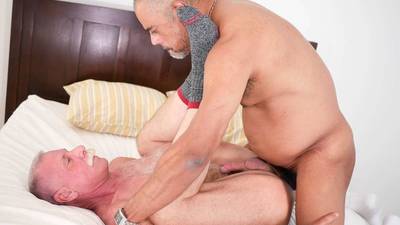 Scott Reynolds and Tancredo Buff get down and dirty in this daddy-on-daddy scene, showing us that even daddies need…well…daddies! Silver-haired, mustached Scott devours Tancredo's cock before getting into a mutually satisfying 69 that's as hot as it is sensual. Tancredo, like most Latinos, is a butt-and-hole lover and soon has Scott sitting on his face. He takes his sweet time suckling that pink hole but Scott likes it, too. He flips Tancredo on his belly and buries his face in that hot man ass, devouring the rarely used starburst as if he were sucking out the cream from a donut. Scott slides home nice and easy, bareback fucking Tancredo with skill and finesse. He then turns the tables, straddling Trancredo and taking that big brown uncut cock raw up his ass. The two continue flip fucking until they blow their loads, with Scott eating Tancredo's lip-smacking, finger-lickin' good jizz. Slurrrp!
Friday, January 22nd, 2016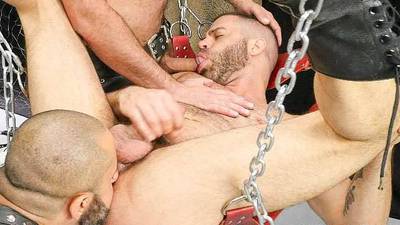 When you get these three hot guys, Amir, Marcus and Matthieu, in a scene together you can expect nothing less than fireworks. Amir and Marcus begin and Matthieu quickly adds in. Soon cocks and hot holes are dripping with spit getting their bodies ready for hot fun. Then it's time to pull out the toys! Major cock sucking and ass play is just the warm up to part 2 of this session. Enjoy!
Friday, December 25th, 2015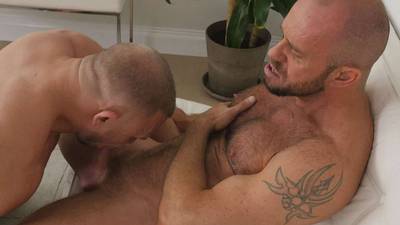 Matt Stevens and Daxton Ryker were the perfect pair to start off our production weekend in Fort Lauderdale. We picked them up, brought them to our super secret location and before long it was lights, camera and some hot, sexy, skin to skin action. They were into each other and it showed. From the way Daxton swallowed Matt's hard cock, to the way Matt slid in Daxton's wet hole over and over again before finishing up with a nice load all over it. Check it out for yourself!
Friday, December 18th, 2015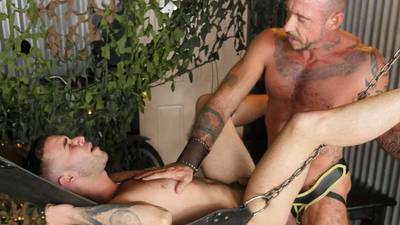 When we set up the last scene of the production weekend we didn't know what to expect, but we are glad we got Ray Dalton and Marcos Mateo together at Inn Leather in Fort Lauderdale. As soon as they got on set we knew we were in for a treat! It didn't take long before they were all over each other and cameras were rolling. Hard cocks and willing holes! Marcos sucked on Ray's huge cock, getting it pumped and ready. Ray, who loves eating ass, had his best meal of the day with his face between Marcos beautiful cheeks. And the deep, raw fucking just topped everything off! For sure a scene you don't want to miss!
Friday, November 20th, 2015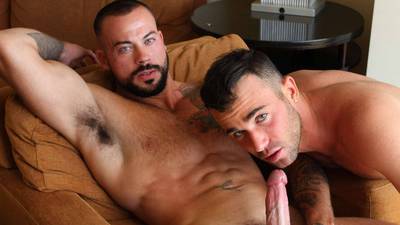 Alex is bent over the chair showing off his raw hole to Sean's admiring eye…kneeling in front of his twitching hole Sean starts to rim and lick Alex. The action heats up pretty fast when they take turns sucking and 69 with each other on and off the furniture. Alex stays bent over the side of the chair as he is fucked by Sean's stiff hard cock. They turn the room into their own private fuck parlour as they move about the place…Sean fucks the load straight out of Alex when he cums all over himself after having Sean's cock up his hole…Sean breeds his nut deep into Alex filling his hole up with his cum. After it's all done they both share some cum with the other as the kiss and hug to finish it off.
Friday, November 13th, 2015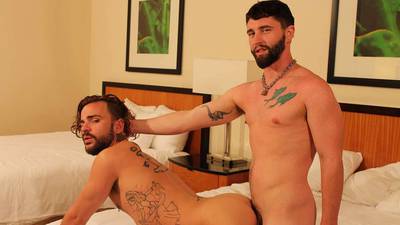 Jackson Fillmore gets his chance to top a raw ass and Lukas Cipriani offers his eager hole. The chance of getting another load planted deep into him…only meant that he was too ready for more bareback sex. The action heats up pretty quickly when Lukas slide downs onto Jackson's hard cock and starts riding him cowboy style. Jackson slides into Lukas' bare butt and nails him deep and hard. With his ass stretched and craving cum Jackson blast his nut all over Lukas' hole draining his balls dry…he fucks his cum into his ass as Lukas' shoots all over himself…they eat and share the load as they kiss and cuddle covered in sweat…
Friday, November 6th, 2015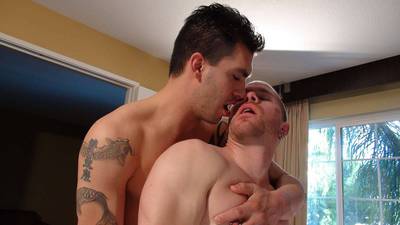 The scene opens with Sage and Butch kissing, necking and fondling one another. Butch quickly gets on his knees and buries his face into Sage's jockstrap exposing his rock solid woody. Butch feverishly sucks and swallows Sage's dick. He returns the favor and orders Butch on his stomach as he rims and licks his pink hairy hole. Sage teases and taunts his butt crack in preparation for the raw fuck he will be throwing into him. The sex steps into high gear when Butch takes his seat on Sage's raw pole and rides him cowboy style. He works his ass cheeks deep onto Sage's cock with long hard strokes. Butch pants in delight as he feels Sage deeper and deeper inside him. The hot sex intensifies when Sage throws Butch onto his back and spread his legs wide open exposing his twitching sloppy hole. Sage pile drives his dick hard into Butch's bareback crack. Sage quickly orders Butch back onto his stomach. He spreads his ass cheeks open then straddles Butch's thighs and nails him balls deep. Butch screams in ecstasy as Sage shows him what a great Top he is. The scenes reaches its climax when Sage slides his cock back into Butch doggie style and fucks him raw until he shoots his nut all over his gaping hole. Sage continues to cum deep inside of Butch's ass making sure that he is bred fully. Sage eagerly slides down in between Butch's butt cheeks and felches his ass clean. Sage pulls Butch back towards him as they engage in a hot sloppy snowball kiss. Butch doesn't lose a drop as he sits back onto Sage's raw prick. He rides his cock while stroking his own uncut prick. He shoots a sticky chunky load of cream all over Sage's belly. Not to be outdone, Butch gobbles up the entire load he just shot and snowballs it back with Sage in a deep wet kiss.
Friday, October 30th, 2015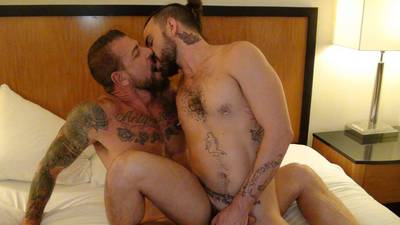 What more can be said about Rocco Steele other than he is a legend in the making…Him and his massive cock deliver another stunning performance…this time with willing victim Lukas Cipriani. The passionate lust that they display for each other is genuine and real so it's no surprise that this scene is bareback sex at its very best. Rocco's impressive 10×7 inch cock is on high alert as he nails and fucks Lukas' raw hole in every position. Rocco feasts on his ass as if it was his last meal and gets it ready for Lukas' final pounding and breeding. Cum flows and the sweat drips as these sexy beasts collapse in exhaustion.
Friday, October 23rd, 2015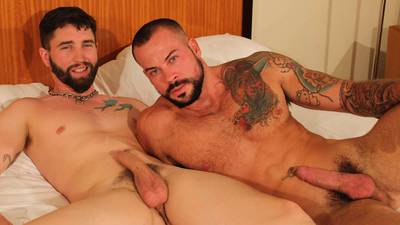 Bareback heartthrob Sean Duran is back for more raw action as he gets his chance to plug and pound Jackson Fillmore's tight pink hole. It doesn't get much hotter that this…and the sexual chemistry between them are intense and amazing. Jackson has no problem sliding down and riding Sean's stiff man pole. Looking deep into his eyes as his ass swallows Sean's cock balls deep. He is flipped over and fucked hard when Sean nails his bare butt and loads him up with his fresh seed. Jackson jerks his uncut cock and shoots his nut all over himself as an eager Sean cleans up the load and shares it back with his sweet bottom.
Friday, October 9th, 2015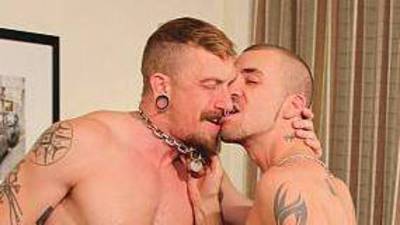 The chemistry between the three of them is electric and the sex…it's just fucking amazing…when Jon shines as the power bottom of this scene and takes on Jessy's huge uncut cock and Jeff's heavy loaded nuts…neither of the Tops can get enough of Jon's furry hole as they fuck him every which way they can…he's bent over, fucked doggie, then fucked froggie, thrown back on the couch with legs spread wide open…it's a hot romp in the sack with three sexy beasts…each shoots a huge load of cum that is shared and devoured by all.